Madame Googoo Neo Print (English)[Review]
With this review I would like to start to write some shorter versions of my German reviews. I am very sorry for mistakes, because english is not my mother tongue. I start with this review of the Madame Googoo Neo Print Standard carrier.
Madame Googoo is a Polish brand which produces different baby carriers. I tested a full-buckle-carrier, the Neo Print, in size Standard. The manufacturer writes that it can be used for at least 1 year-old children. In my experience it's suitable from about size 74 to 86. The carrier costs around 115€.
The length of the shoulder straps is adjustable with three different webbings. The shoulder straps are fixed on the body of the carrier so this could be to much pressure on the back for smaller children. The waist band is shaped conical and in my opinion a bit stiff. The width of the body panel can be adjusted with a webbing on each side.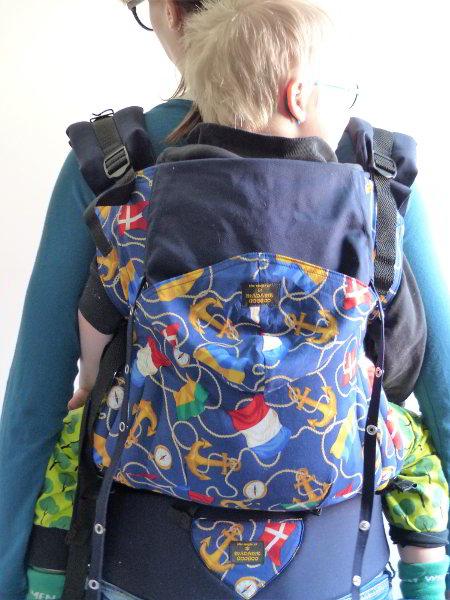 I've tested the carrier with the demo dolls I use for my babywearing consultations as well as with my 3 year-old son. With the doll (approx. size 68) the carrier was a bit to big concerning the width and height of the body panel. With the smaller adjustment of the body panel the waist band became really uncomfortable. For my son the hight of the carrier fits good but the width of the body panel was too small. The straps were cushy on my shoulders so I could care him for a longer time.
In comparison with the older version the improvements are really barely. It's nice that the width of body panel is adjustable now but it makes carrying less comfortable. In my opinion the adjustment of the shoulder straps is easier now. Either the sleeping hood is not enough to support a sleeping baby head. For me the waist band is a bit too stiff.