Birth memories
The births of our children are among the most formative experiences in our lives. The birth process can be very different. We can talk about a birth in a strengthened and positive way or traumatized and hurt. In many cases, however, we are left with nothing more than our memories of the birth, apart from the fact that our baby is now here, of course.
However, many mamas I meet want more than just this memory in their head. They want something to look at and to read about. In part, this is because the memory is somewhat incomplete due to the rush of hormones during birth.
In this article, I write about what options there are for remembering the birth. Some of them you can do or create afterwards, others would have to be planned in advance, so this is more interesting for expectant mamas or following pregnancies.
If you are burdened by the birth experience, such memories can of course be particularly intense and it does not always make sense to bring the birth into view. However, if you are suffering from the experience, I would recommend that you talk about it and, if necessary, seek support in coming to terms with it.
Birth report
The simplest and most common way to reflect and remember the birth is a birth report.
Such a birth report can look very different. Ultimately, any narrative about the birth is a birth report. However, you can not only tell about the birth, you can also write down your memories yourself and thus become aware of your experience, emotions and thoughts during the birth once again.
At no point is it a question of everything having to be described completely, in the right order and for the right length of time. It is also not about whether others who were present at the birth would describe the birth in the same or similar way. No, it's about you and your experience. You can find some tips for writing such a birth report on the page of Ute Taschner.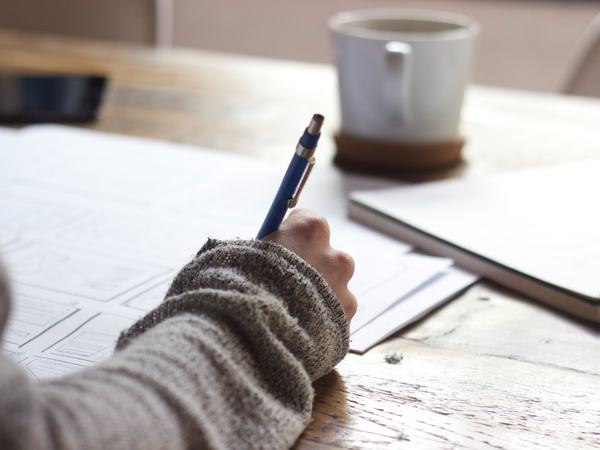 If you had companions with you during the birth, such as your partner, you can first talk to them about the birth and otherwise ask them to write a birth report from their own perspective. In this way, you can look at the birth from different angles and perhaps learn something new.
If a doula was present during the birth, she will probably write her own birth story. If not, you can certainly ask her to do so. She can also help you write your own birth report.
In addition, you can request the birth report from the clinic, birth center or midwife, which is always made for documentation purposes. Clinics usually charge a copying fee for this. You can find information about this and a sample letter on the website gerechte-geburt.de. However, this clinical birth report is often very medical and unemotional. It is merely a matter of legal protection in the event of a lawsuit.
With home births and birth center births, this is usually a little less complicated. You can simply contact your midwife for this. These birth reports are also often a bit more personal and emotional.
Another option for a birth report is to have it professionally written. The costs for this vary greatly.
Photos during birth
If you are still pregnant, you have other possibilities to create memories of the birth. Of course, this also applies to possible further births, if you have already given birth now.
One possibility is to have photos taken during the birth. This can be done by your birth companion, for example, although your birth companion should certainly also support you in the meantime with massages or the like, so that this is not always suitable. Also, you may want shots of just those moments of you together during the birth. This would not be possible if your partner takes the photos himself.
If a doula is with you, she may be able to take photos in the meantime. However, not every doula offers this.
Alternatively, you can film the birth and set up a camera with a tripod. The disadvantage of this is that you can only record at one angle, so you probably won't be able to see everything you want. On the other hand, a video recording has a completely different, own dynamic and can be very moving as a memory. However, this is not possible everywhere and should always be agreed upon in advance.
But there is another possibility: There are special birth photographers (I actually only know female birth photographers) who specialize in capturing the intimate and intense moments during birth in photographs. The quality of these pictures is of course once again incomparably higher than when amateurs take the photos. This is also related to the equipment.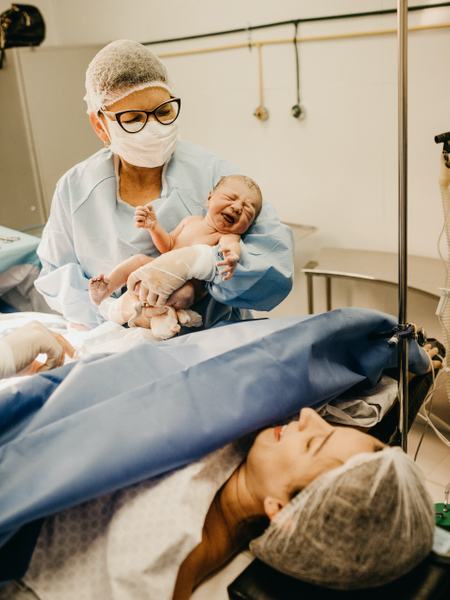 The image style, capacities and costs of such photographers are very different. It is worthwhile to inform yourself early and to contact different photographers. It is also important that you are on the same wavelength, so that you do not find the presence of the photographer disturbing. This option should also be discussed in advance with the clinic, birth center or midwife.
Amniotic moon and placenta print
Something you should also think about before the birth, if you want this as a souvenir, is making mementos of the placenta and amniotic sac.
Ultimately, there are no limits to your creativity here. I'll describe two common variations for you here.
A birth is considered complete only when the placenta is born. It is part of the baby and our only temporary organ. For a long time it was the connection between you and your baby, a fascinating organ.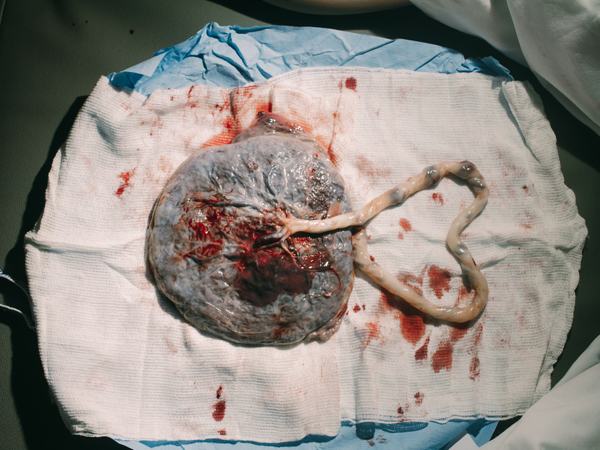 To remember this connection and the placenta, a so-called placenta imprint can be made. There are several methods for this. Immediately after birth, a thicker sheet of paper, I would recommend DinA3, can be placed on the placenta and lightly pressed down. This creates an impression with the fresh blood. Later this impression can be further elaborated, for example you could strengthen the lines of the vessels a bit.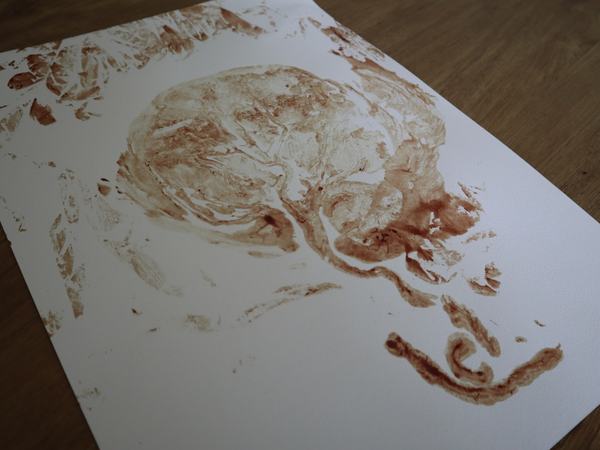 If you don't want to do this, you can paint the placenta (have it painted) and thus create a colored impression. For this, the placenta does not have to be fresh, but can be thawed if you have frozen it after birth.
A fresh placenta impression may not be possible in a clinic. You should also announce a placenta collection for freezing at the birth planning meeting and communicate it again immediately after the birth at the latest, so that it does not accidentally end up in the clinic waste, as would otherwise be the case.
If you do not want to make the impression yourself, there are also special providers for this. Often these are doulas.
To have a reminder of the amniotic sac, i.e. the egg skin of your baby, so-called amniotic moons can be made. Amnion is the technical term for the inner egg skin.
When the placenta is born, the amniotic sac is also born. To make an amniotic moon, pieces of it can be cut off with sharp scissors. These are then placed over a glass and secured in tension with a rubber band. The glass used for this is discarded afterwards, as the egg skin sticks very tightly to the glass when it dries.
The amniotic sac must now dry. Once it is dry, you can carefully cut it out along the edge with a cutter or scalpel. The edges often fray a bit when you do this. You can get them smooth by cutting along them again with scissors and doing the fine work.
You can now stage the amniotic moons however you like - for example in a glass frame so that the light can shine through, or you can create a kind of collage.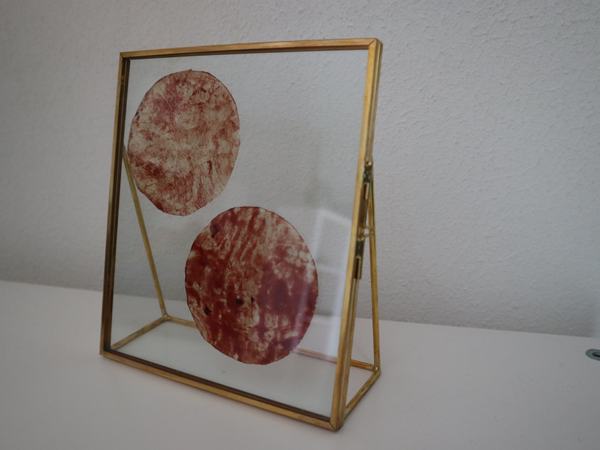 Collages, pictures and mementos
After I last presented possibilities that you should already prepare or plan before the birth, here follows another variant of birth memories that you can also implement later.
You can create a collage of pictures and mementos. For this you can use, for example, the pictures of the birth that you have. In addition to the first photos or photos of the birth, you can also use other mementos, such as the bracelet from the clinic or the fallen umbilical cord.
Ultimately, there are no limits to your creativity. You can design it on a sheet of paper or in a box, to name just two examples.
Also, a birth picture could be designed with the date and time of the birth, as well as the weight and size of your baby. This is possible, among other things, through various providers from the printing sector.
Alternatively, you can of course paint a picture depicting the birth or the first moments after.
In a slightly larger box you could collect other mementos. Maybe the towel your baby was first wrapped in (if it was your own towel) or clothes you wore during the birth. But even if you continue to use clothes or towels in everyday life, such things can remind you of the birth.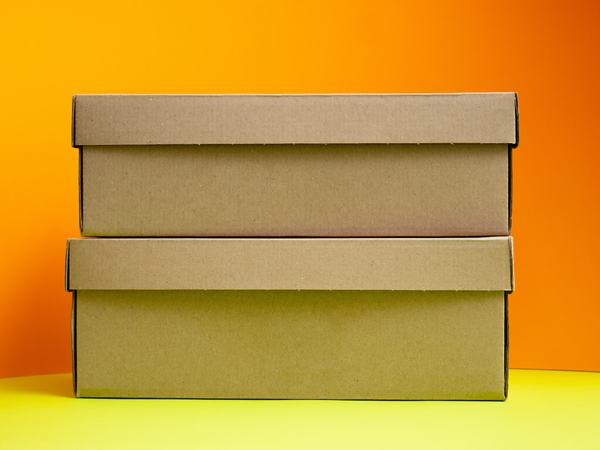 Conclusion
As you could see, there is a whole range of possibilities to consciously remember the birth and to create specific memories that go purely beyond the memory.
Which of these appeals to you is a matter of taste. Fortunately, there are no guidelines here and you are free to choose what you like and create it the way you like it.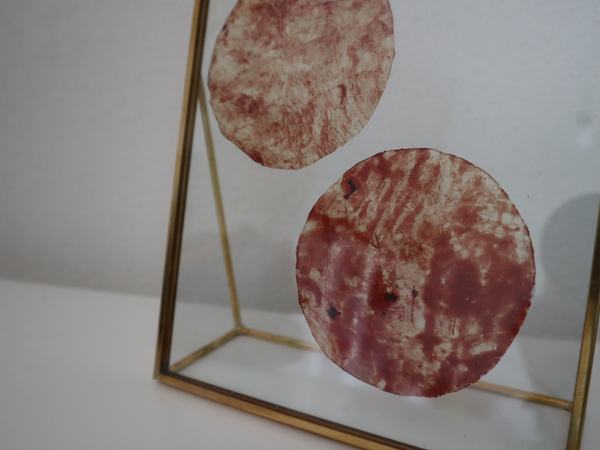 Some of these mementos need to be prepared and planned before the birth, like the photos during the birth or the placenta print. Others can be created later, like the collage or the birth report.
What memories do you have of the birth? Any other mementos you wish you had made after the fact?
I look forward to reading about them in the comments!
Image sources
All other photos are from me.