Oldenburg Buggyfit trainer Yvonne
Dear Yvonne, maybe we'll start with you first. Would you like to tell us a little bit about yourself? Where do you live? Do you have children? How would you describe yourself?
I am 36 years young, mom of 3 children and have been living with my partner for 10 years. 1 foster child 24 years old, 2 own 11 and 5 years old. My main job is soldier since 2001 and during this time I have always given sports courses. Sports have always fascinated me and are still very important to me.
I have a normal 40 hour week and additionally a lot of sports courses, with and without children. I am a trained office administrator and have attended many different sports training courses. Among others the Medical A License Trainer, Pelvic Floor Trainer, Functional Training and Military Fitness Instructor just to name a few.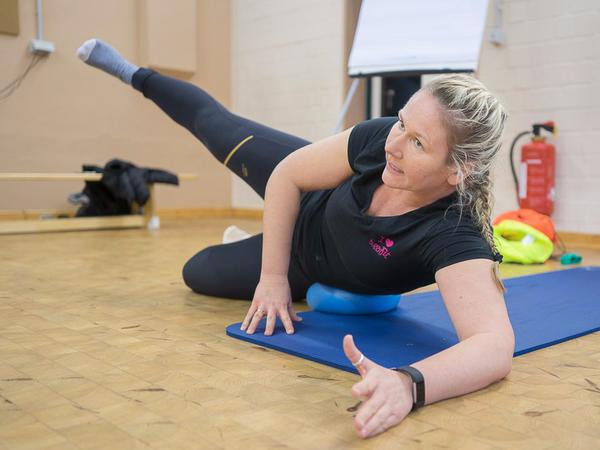 We have been living in Oldenburg since December 2012 and I think we have arrived here. I feel very comfortable here. I am a very loud, spontaneous and strong-willed woman. Everything I set my mind to, I implement. I need goals in life, that is important to me. That the family does not come too briefly thereby is natural. The plan is to organize the course of the week well, to get everything under one hat and not to let anyone in the family come up short.
You mainly offer Buggyfit. What is that exactly? What do you do and what is the goal?
Buggyfit is a sports program for moms who want to do sports after giving birth, but don't want to leave their child with a babysitter. The mommy fitness trend is an outdoor fitness program specifically designed to meet the needs of the female body after pregnancy. These are the benefits with Buggyfit:
-No babysitting, because your honey is with you.
-Make new friends through contact with other moms
-Easy, but effective training with quickly visible results
-Strengthening of the immune system through exercise in the fresh air
-Sunshine vitamin strengthens the bones and ensures your well-being
-Gentle workout
-Sport fun
Should I wait until a certain time after the birth, or can I start directly with Buggyfit?
The mom who wants to attend a Buggyfit class with us should have participated in a postpartum class for at least 2 hours beforehand. In case of a normal birth our moms start 6 to 8 weeks after delivery. In case of a cesarean section 8 to 12 weeks. Gladly with a green light from the gynecologist.
Are the buggyfit classes always outside? And surely I can join in with a stretcher or sling, can't I?
Experience has shown in Oldenburg that we go in with 2 courses in the cold winter months. Otherwise, all other courses are always outside. There is actually no bad weather, only bad clothing. Of course, if there is a storm or thunderstorm warning, the course is cancelled.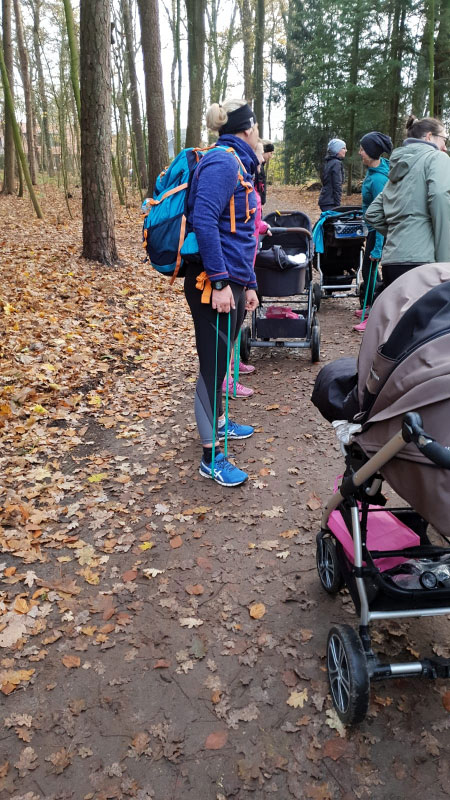 Every mom is welcome, no matter if the baby is in a sling or in a carrier. We respond to each mom individually. With the sling, our moms get some different exercises and we manage to make them happy.
How many classes do you offer per week?
At the moment we offer 8 courses. In addition, from March we will offer Varel and from February we will offer backbirth courses in Leer. And from the 13th of February another course in Wildenloh.
You have some other offers. Would you like to say something about them?
Fit through pregnancy is close to my heart. That's what the moms start with when they come to us. This class is on Thursdays at 5:30 pm. Just talking and exercising with other pregnant women. In addition, we try to offer a backbirth class (pelvic floor workout) every month. We have noticed how difficult it is in Oldenburg to get a place with a child, so we close the gap. With us, no mom has to wait. Every mom who asks gets a place.
How did you get started?
I am a trainer in Oldenburg and was looking for a gap. I thought about what is not yet available. I looked at different programs and familiarized myself with them and Buggyfit was the best concept for me. I should have started with it much earlier. It is so mega fun.
What is the most beautiful thing about your work for you?
The best thing about this work is when I announce an exercise in class that is going to be strenuous and the moms look at me and ask: Yvonne, are you serious? That makes me happy.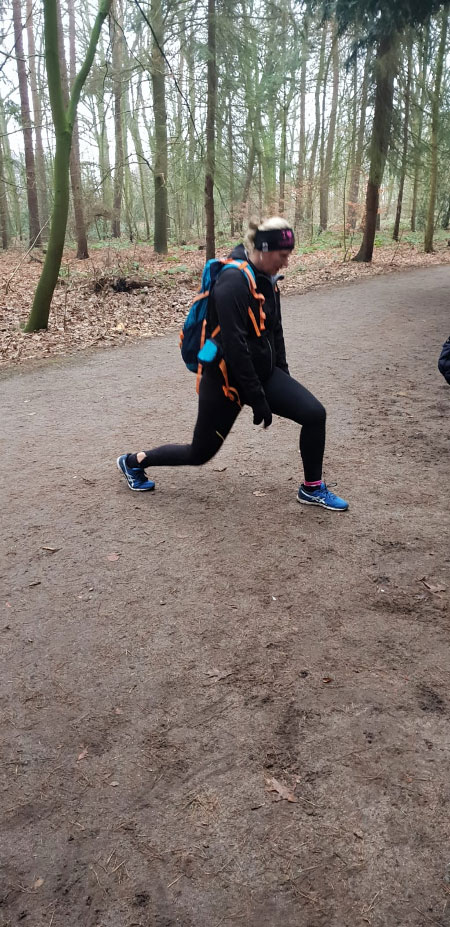 But afterwards or in the process, to see how happy our moms are to be out in the fresh air with their children and doing sports. I am grateful for every conversation. The contrast to my normal work and the work with the most beautiful mamas in the world, make me mega happy. I also find the exchange in the groups themselves during sports wonderful.
Would you like to tell something else - about you and your work?
Twice a year we, Buggyfit, go to Spiekeroog with the moms and the kids. It's so nice, this island, the air and then some Buggyfit and massage. Just sitting in the sun and having time for the mamas, wonderful. I am grateful, I have been able to meet such wonderful strong women who are now my friends.
I have many ideas in my head that I still want to implement, but everything in its own time. Currently we are preparing for the Moin Baby, our trade fair in Oldenburg around the baby I am excited.