Oscha Japanese Knot Chiisai Satori
Oscha is a very established and popular manufacturer from Great Britain. Especially the motif slings and carriers with scenes from the Lord of the Rings trilogy are very popular. We have had the Japanese Knot Chiisai Satori sling for several years and it is especially popular with my husband, so I would like to tell you about our experience with it.
Overview of the sling
Manufacturer: Oscha
Model: Japanese Knot Chiisai Satori
Color: dark green/ black
Size: 6
Material: 100% cotton
weight per unit area: ca. 256g/m²
Information about the cloth and the manufacturer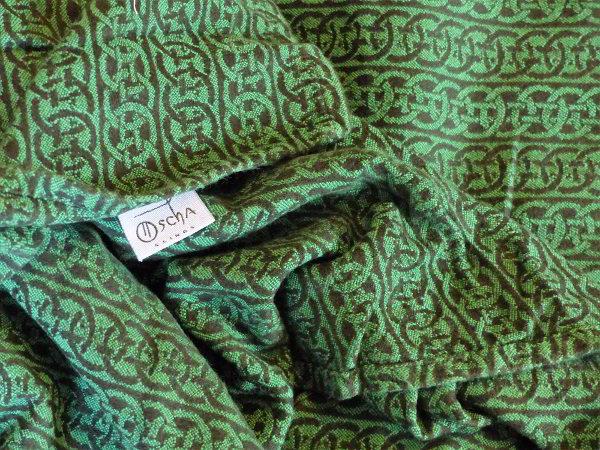 Oscha was founded in 2010 by Mike and Zoe Masters in Great Britain. They write on their website that they are particularly quality, functionality and elegance in their cloths at heart. It is further described that they were one of the first manufacturers to release collections with a specific theme. It is also clear that babywearing is a family tradition and that everyone enjoys babywearing.
In addition to slings, Oscha now also makes Coorie or Cairis baby carriers. Cairis is also in my assortment and also for this you will be able to read a review.
The model Japanese Knot Chiisai Satori belongs to the collection Winter Solstice. Part of this collection were 25 other slings from Oscha. It was released on January 22, 2013 as a limited edition. I could not find the original price of the sling, probably it was around 120€.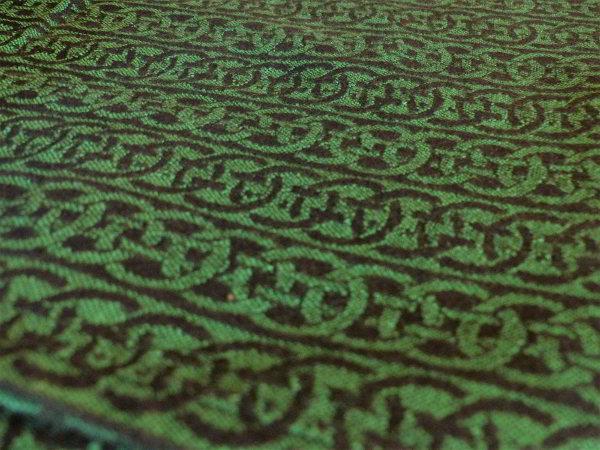 As the name suggests, the sling depicts Japanese knots. The knots them arranged as an endless row across the entire width of the sling. The colors dark green and black let the pattern, in my opinion, very noble, but also dark, work.
When wearing
Initially, the sling seemed a bit stiff to me, but this could also be due to the basis weight. This is in the middle range and I had at this time little experience with such slings. The more we used the sling, however, the softer it became, as is often the case with slings. The tightening succeeded well due to the weave and the weight per unit area. It did not slip and I did not have to retighten even after prolonged wear.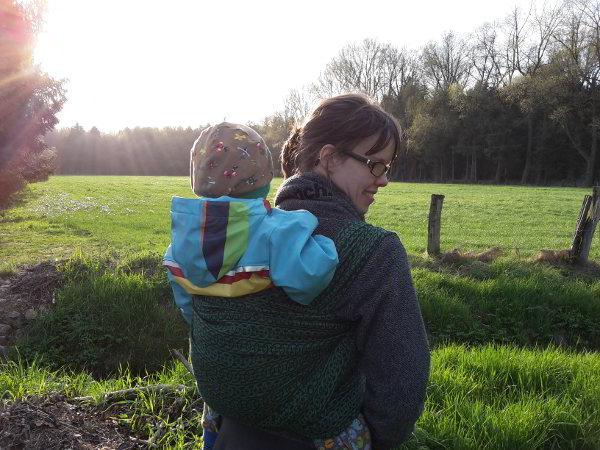 When my son was still very small, tying with this sling was not quite so easy and I preferred thinner cloths. I can also confirm this in the test with the demo dolls from my carrying consultations, with the wrap cross carrying and other binding methods. In addition, here the fabric jammed a bit in the back of the knees. However, as I grew in size and weight, the sling was very comfortable, both in tying and in comfort. As time went on, I only used multi-ply tying methods because they provided even more support. My husband, however, continued to enjoy carrying our son in the wrap-around cross-carry with the Oscha sling.
Washing
According to the manufacturer, the sling can be machine washed at 30 degrees. I have washed the sling only by hand, thereby occurred no problems. However, since the material cotton is generally easy to care for and robust, I think that machine washing would also be unproblematic.
Conclusion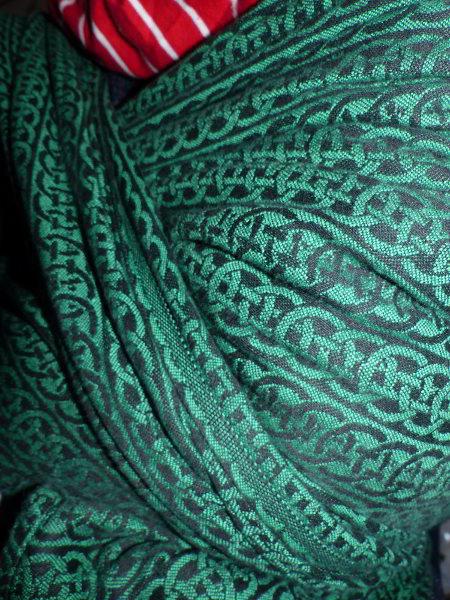 The sling Japanese Knot Chiisai Satori from Oscha has a good price-performance ratio. It's high quality, I couldn't see any weaving flaws and it doesn't tend to pull threads. Personally, the colors are a little too dark overall for me, but my husband thinks they are just as good. The colors and pattern are, as always, a matter of taste. The cloth can be tied well, but for newborns I would prefer a thinner cloth.