Panty diaper TotsBots Bamboozle Stretch
Information/ Description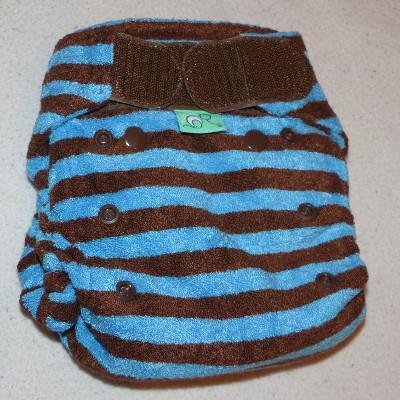 We have extensively tested the TotsBots Bamboozle size 2 pant diaper over the past few weeks. As a pant diaper, it only has an absorbent function and must be used with an appropriately wet-protective overpant made of PUL or greased wool.
The diaper is available in different sizes. The manufacturer writes that size 1 is already suitable for slim newborns up to approx. 9 kg, the next size is the uni size and can be used from approx. 4 to 16 kg, size 3 is finally suitable for infants between 8 and 20 kg.
The described diaper is a pant diaper, what other diaper types there are I have in my article cloth diaper systems [brief overview].
Size 2 can be adjusted in the waist height by means of snaps. The belly width is adjusted with the Bamboozle with a Velcro closure. This has counter Velcro inside so that other laundry or the diaper itself will not be damaged during washing. On the legs it has simple cuffs, and there is another elastic on the back. This allows for a better fit and is designed to prevent solid stool from leaking out.
Price-wise, the TotsBots Bamboozle panty diaper is just under €20, which puts it in the middle range of this system. It is available through various online stores, such as Stoffywelt*.
Panty diapers are often used as night diapers, so in this case only a few copies are needed.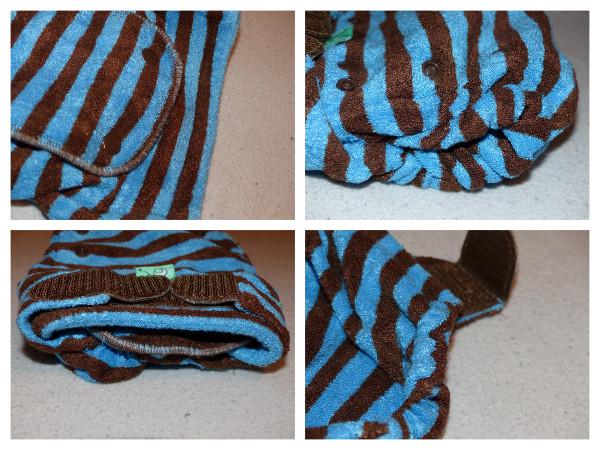 TotsBots is a Scottish manufacturer, which now produces entirely in the UK. Previously, the diapers were partly manufactured in Turkey. The manufacturer, which also runs the website totsbots.com, writes that all materials used are fair trade.
The first pant diaper from TotsBots actually originated from a towel and was of course further optimized and adapted in its materials over time.
Material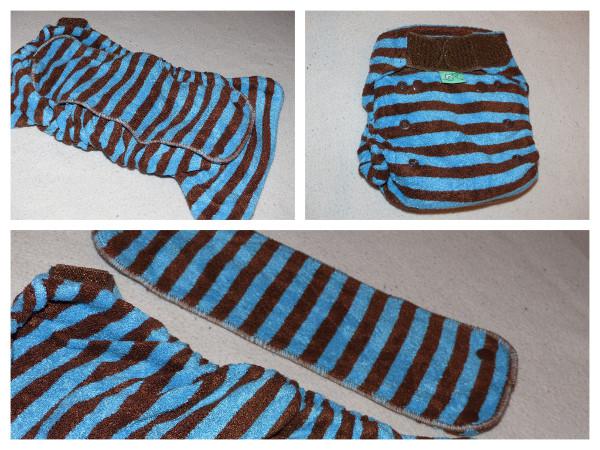 The outer layer of the tested pant diaper consists of 80% bamboo viscose. The remaining 20% is polyester, which makes it very soft. The absorbent core is made of 100% polyester. This is not visible here and is completely sewn.
However, it is visible through very fine seams on the abdomen, back, and near the leg cuffs. There you can also feel thicker fabric. By means of two snaps, another soaker is inserted into the Bamboozle. This also consists in the outer layer of 80% bamboo viscose and 20% polyester, with an additional smaller absorbent core, made of 100% polyester.
The TotsBots Bamboozle in the test
We tested the pant diaper with different overpants to get as comprehensive a picture as possible. In the process, we came to quite different results. With the Smart Bottoms overpants, clear marks were visible, so I did not use them again in combination.
I also tested the Bamboozle with the overpants in size 2. I could hardly see any marks and the fit was very good. Also with the hu-da PUL slip overpants with fleece cuffs had such a result, as well as with a wool overpants from disana.
Farewell to diapers online course
Learn how to make the transition from diaper to potty in my Abschied von der Windel online course.
I find the absorbency of the pant diaper very good. If the absorbency is still not enough, you could still use an additional absorbent pad. Further, I find this diaper relatively slim for a pant diaper. Should it only be used at night, however, this is also less important. For daytime it has thus been well suited for us.
Washing / Drying
Washing the diaper is uncomplicated with use of the counter-cloth as protection for further washing. However, due to the many sewn layers, drying on the line in winter took a relatively long time, so that it was only completely dry after about 3 days.
Conclusion on the TotsBots Bamboozle
The TotsBots Bamboozle Stretch impressed me primarily with its absorbency. I also found it great that it is a comparatively slim diaper and thus does not restrict movement during the day.

I like the design, although in the end it is not visible with the overpants anyway. I find the fabric to be very soft and comfortable against the skin.

Another point is that this panty diaper is available through many different German stores. Overall, the Bamboozle cloth diaper has completely convinced me.

*Thisis an affilate link. If you buy from the store, you get 5% off your first order and I get a small commission.