Petit Lulu panty diaper
At night we like to use pant diapers and here too there are different models suitable for newborns. In this article I would like to introduce the pant diaper from Petit Lulu (size 1).
About the manufacturer
Petit Lulu is a Czech manufacturer, which, as I can read on the website www.petitlulu.eu, was created out of necessity. All diapers, as well as the other products, are produced in the Czech Republic. Since 2012, the manufacturer has continued to grow and the products are now sold throughout Europe through various stores.
Description of the diaper
This is, as the name suggests, a pant diaper, it is completely absorbent and requires an overpant for wetness protection. Slip, snap or velcro overpants made of PUL or greased wool can be used.
The described diaper is a pant diaper, what other diaper types there are I have in my article cloth diaper systems [brief overview].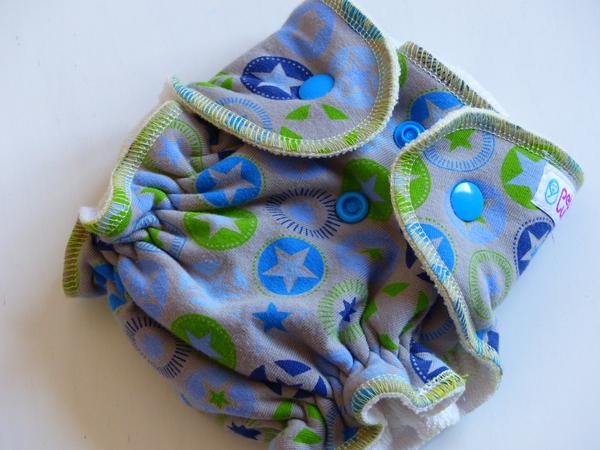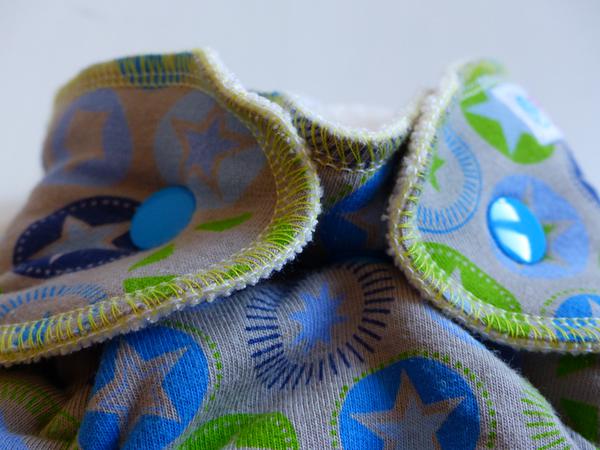 The pant diaper from Petit Lulu is available in three different sizes: size 1 (2-6 kg), size 2 (4-15 kg) and size 3 (Maxi, 7-16 kg). I refer here to kilo data of the manufacturer.
The diaper is available, for example, at Stoffywelt and costs there in Gr.1 19,90€*. This puts it in the average range of newborn diapers.
The diaper is available with a Velcro closure or with snaps. For the newborn size, I only found the version with snaps. In this case, they have a single row of snaps to close. In the middle, the diaper has another snap, with which the diaper can be folded down a bit at this point. This is to leave out the navel (which has not yet fallen off) and thus keep it dry. In principle, this is not necessarily necessary.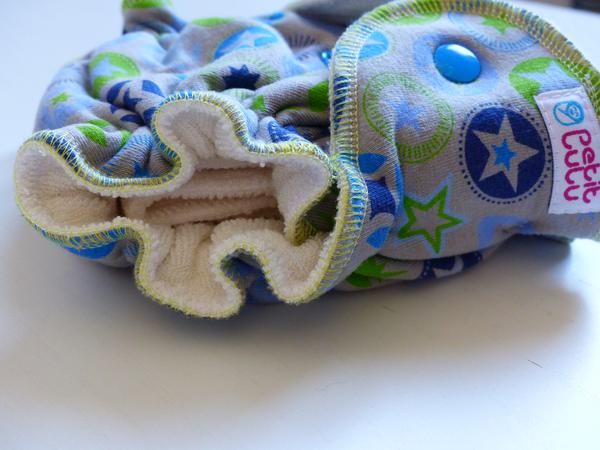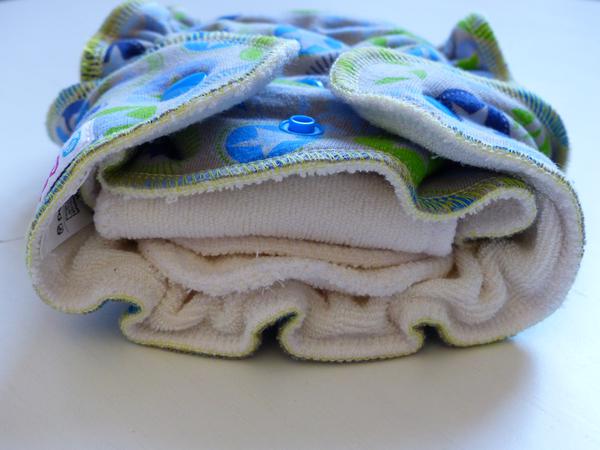 On the legs and on the back, the panty diaper has cuffs that are supposed to provide a better fit. At the back, the cuff is to prevent stool from leaking upwards. Inside, the diaper has a long button-out insert. The insert can be placed individually, though we mostly just took it double. During the day or basically when not as much absorbency is needed, it can be left out. This makes the diaper package much smaller.
Materials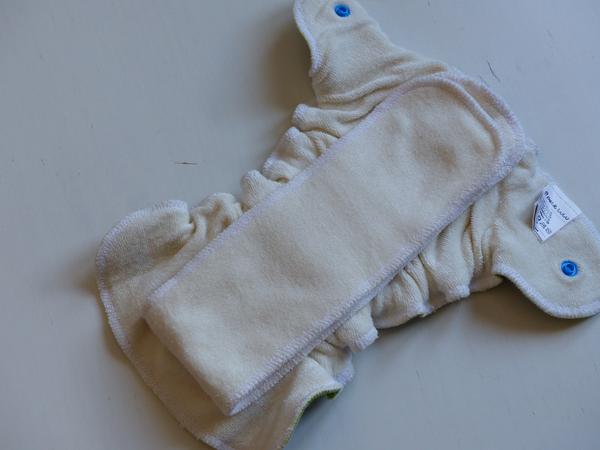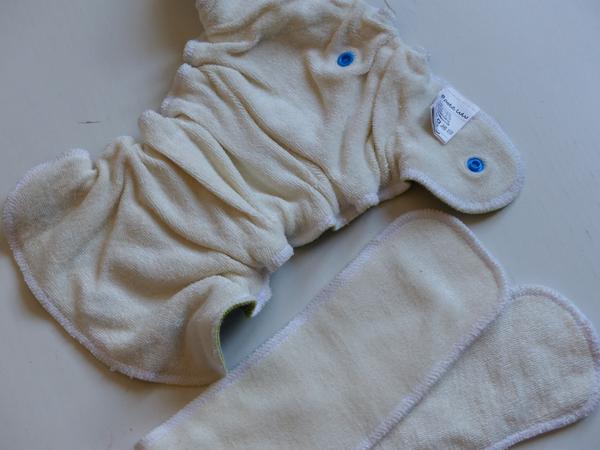 The test item is made of an elastic cotton jersey, which is 95% cotton and 5% spandex. The underside and also the insert are made of 60% bamboo viscose and 40% organic cotton. The is bamboo viscose recognizable by the shiny, soft fabric. The inside of the diaper is 80% cotton and 20% polyester.
Cotton and bamboo viscose are both absorbent, absorb fast and retain wetness well. Cotton is a sturdy, easy-care material that is used a lot in cloth diapers. Bamboo viscose is a bit more vulnerable due to how it is made. You can read more about this in my article Small material science - cloth diapers.
In the test
I have now been able to test this pant di aper for a few weeks with my now 2-month-old daughter. We mainly used it at night. It has very good absorbency and was usually not even completely wet in the morning when we had the insert in. During the day, I liked the diaper without the insert better. Again, the absorbency was good enough for at least two hours, after which we always diaper.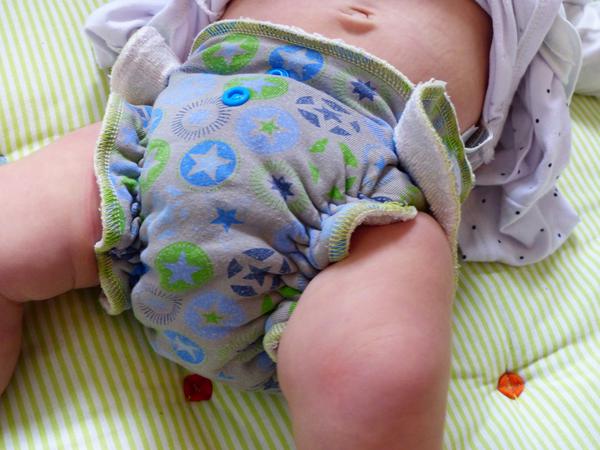 The diaper has left no pressure points with my daughter and could be adjusted well from the beginning (at ca.3,5kg). However, it would certainly have fit well even with less weight. Meanwhile, she weighs just under five and a half kilograms and the diaper fits just so. Depending on the size and weight of the baby, it is not necessarily very long usable. For the early days and for the night, however, I found it very comfortable.
Say goodbye to diapers online course
Learn how to transition from diapers to potties in my Goodbye to Diapers online course.
Because the diaper is cut rather narrow, there are many options when it comes to wetness protection. For slip-on overpants, for example, we used the wool overpants from disana (size 62/68) and Maleja (S), as well as the PUL overpants from hu-da (S). As snap or velcro overpants went well, for example, the Blueberry Capri or Newborn overpants from Bambi Roxy*.
Washing and drying
According to the manufacturer, the diaper can be machine washed at 60 degrees. I had no problems at all with this. I would recommend a detergent without cellulase because of the proportion of bamboo viscose. Drying was a little faster due to the removable insert than pant diapers, with sewn insert.
The diaper fabric remained soft even after multiple washings.
Conclusion
Petit Lulu 's pant di aper is a highly absorbent diaper that I find especially good for nighttime use. During the day, I would rather use it without the extra insert. It already fits small, narrow newborns well. The push button to keep the navel dry is certainly something some parents will find handy.

*This isan affiliate link. If you buy in the store you get 5% discount on your first order and I get a small commission.