Safrika Casual leaves
I had the opportunity to test a classic African Kanga sling from Safrika in the last few days. I already have another Kanga sling here and I was curious how this sling can be tied in comparison. You can read about what's so special about these slings and how tying works in the first place in this article.
Overview of the sling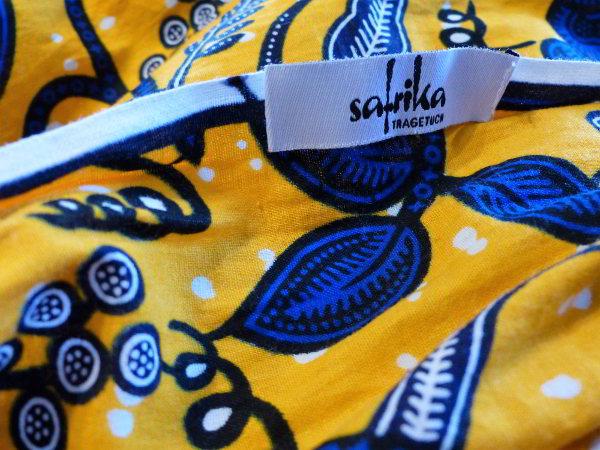 Manufacturer: Safrika
Model: Casual leaves
Color: sunny yellow, blue, black
Size: 170cm x 110cm
Material: 100% cotton
Information about the manufacturer and the scarf
Safrika was founded by SaSa, as she calls herself on her website (her real name is Sarah Samira). The 22-year-old writes that the Safrika sling is her constant companion and everyday life without such a sling is unimaginable for her. The Safrika slings are produced in Kumasi in Ghana. About the production you can read on the website:
The cloths are printed, using a technique called "waxing." The cloth is printed on both sides. During the dyeing process, layers of wax are repeatedly applied and removed. It is through this technique that these colorful patterns appear so radiant.
Kanga cloths are quite different from what is known as a sling in Europe. It is a rectangular piece of cotton fabric. Therefore, tying is also completely different and completely without knots. How is that supposed to work? Yes, I asked myself this question at first. So I finally started to try it out.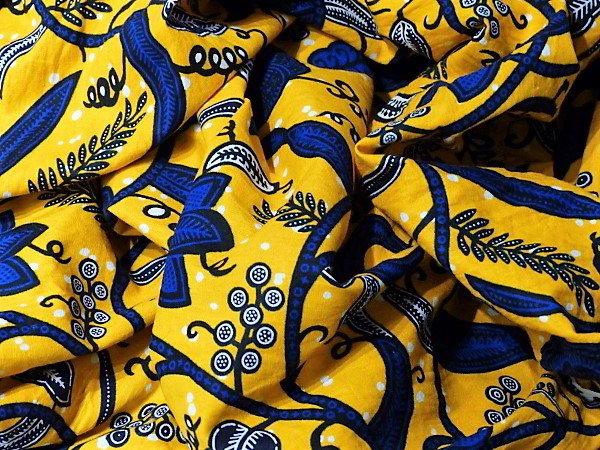 The colors of the tested cloth are actually very bright and intense. Due to the special dyeing technique, they are supposed to stay that way even after repeated washing, which I can't judge here. The pattern of the cloth is here, as already described above, not woven in, but printed. Price-wise, the cloth is at 49€ and is thus really cheap for a baby sling.
When wearing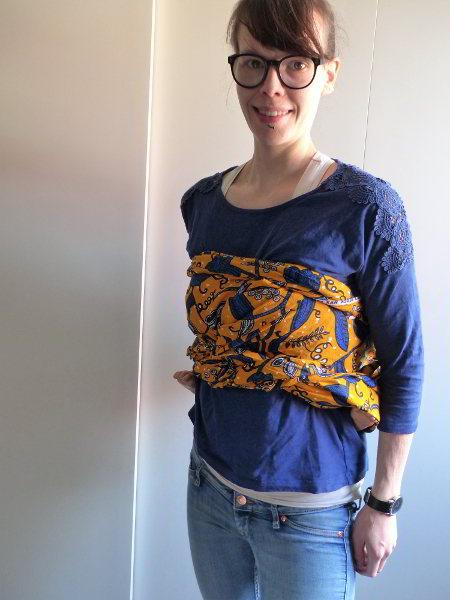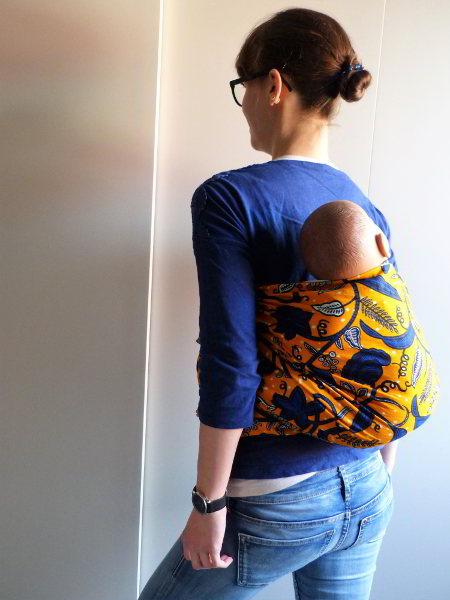 For me, tying the sling has required practice, especially because it is neither knotted, nor has supporting strands on the shoulders. This put my need for safety to a small test at first. Gradually, however, the tying succeeded better and better, important is really tighten. It was also unusual that the carrying height is much lower, so that the child can not look over his shoulder. In addition, I had to get used to the fact that the fabric, especially with small children, not in the hollow of the knee but ends at the lower leg. However, somewhat practiced, putting on the Kanga cloth goes incredibly fast.
With my son, tying was actually much easier than with the demo dolls from my babywearing consultations. I suspect that this is due to the change in body center of gravity and the lack of muscle tension.
However, the Safrika sling can be used for more than just carrying. It is very versatile and can easily be used as a scarf or picnic blanket. It also takes up hardly any space in the bag, which is why it can easily be taken along at all times.
The Kanga Tie
In this video I show the Kanga binding method with the Safrika sling.
Washing
The website says that the sling can be washed in the machine at 40 or 60 degrees, but no fabric softener should be used.
Conclusion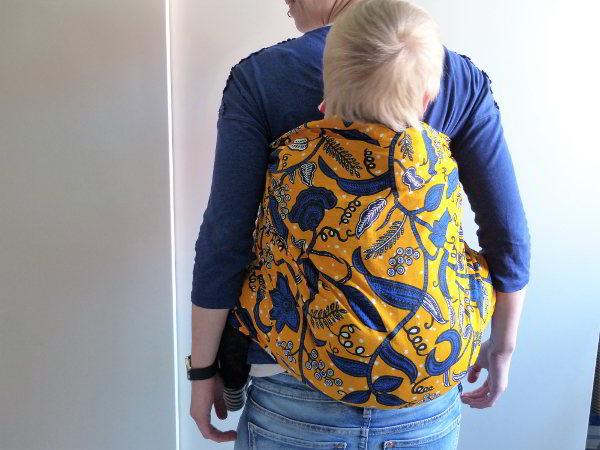 The sling Casual leaves of Safrika is qualitatively very good. However, tying with a kanga sling takes some getting used to and required some practice for me at first. I will definitely try my own kanga sling more often. In my opinion, however, tying also requires a lot of cooperation on the part of the child. With very fidgety babies, I would rather choose a different tying method. I can otherwise only recommend, if the possibility exists, to try this classic African binding method once.