TotsBots TeenyFit Star
The all-in-one system doesn't get quite as much attention with newborn diapers as it does with the larger one-size diapers. But there are some manufacturers that make AIO's specifically for newborns, one of which is TotsBots.
About the manufacturer
TotsBots is a British manufacturer which was founded by Magnus and Fiona Smyth. On the website I can read that the first cloth diaper prototype was created 18 years ago, shortly after the birth of their second child. I can further learn there that they are always developing their cloth diapers further, which the manufacturer sees as the key to success. Meanwhile, TotsBots products are sold in over 30 countries worldwide.
In addition to the actual cloth diapers, TotsBots' product range also includes accessories such as wetbags and also elastic slings and cloth pads.
Diaper description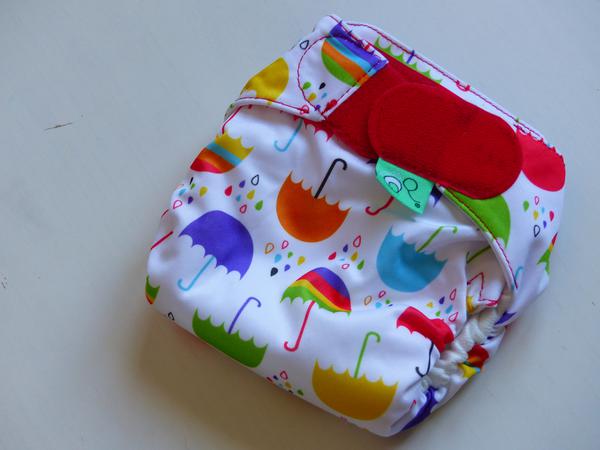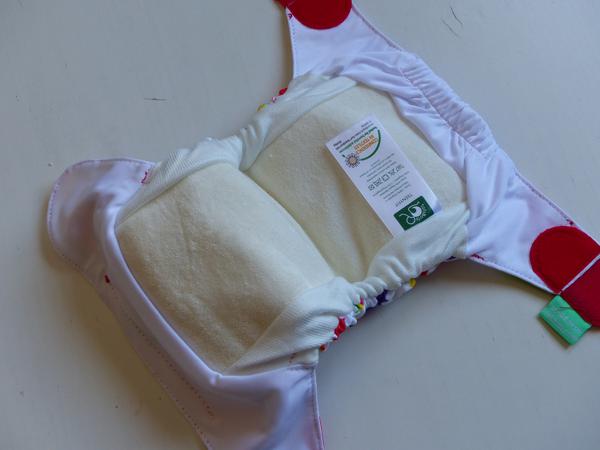 The TeenyFit Star diaper belongs to the all-in-one diapers (AIO's), i.e. wetness protection and absorbent layer are already combined. This makes it a complete diaper. It is closed with Velcro. For washing, it has a counter Velcro inside to protect further washing from damage.
It is available in two different sizes: TeenyFit Star (2-6 kg) and EasyFit Star (5-16 kg). I have taken the respective kilo specifications from the manufacturer. The TeenyFit Star, the newborn version, is priced at about 18 € and is available, for example, at Stoffywelt*.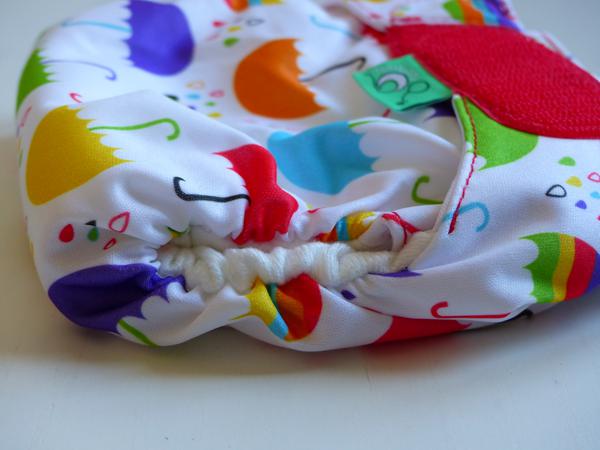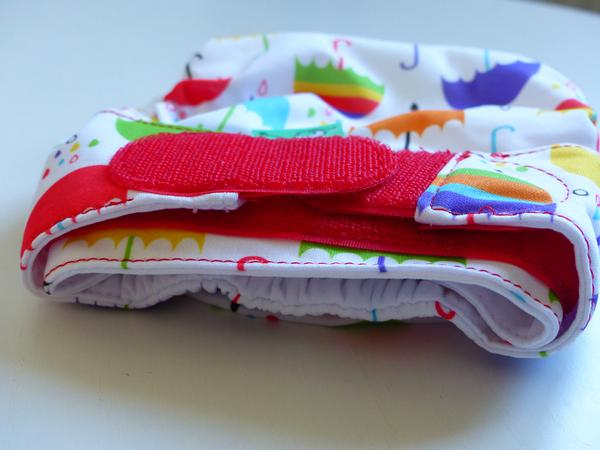 On the legs it has simple cuffs, which are very soft. At the back, the diaper has another cuff. These are to ensure a good fit and prevent leakage. Theoretically, an additional absorbent pad could be added. The only thing to look for is whether the diaper can then still close well on the legs as well as on the stomach and back.
Materials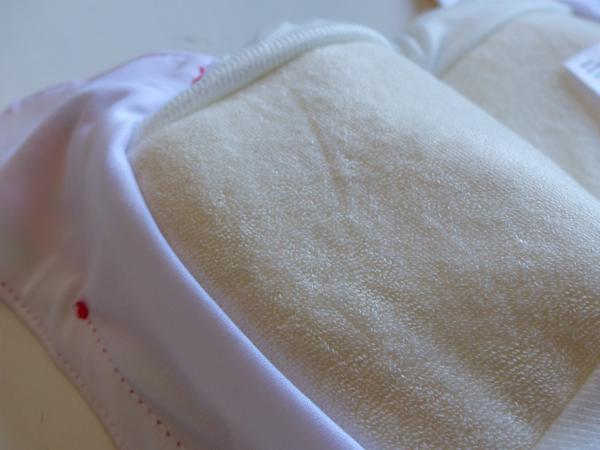 Inside, the AIO has a fully sewn absorbent core. On the outside, the diaper has a layer of polyurethane laminate (PUL) for wetness protection. The absorbent core is made of 45% bamboo, 43% bamboo and 12% polypropylene. This is embedded in a layer of polyester, so that the outer layer of PUL has no contact with the baby's skin. The fabric has minimal stretch, which makes it easier to put the diaper on. You can read more about materials in my article Little material science - cloth diapers.
In the test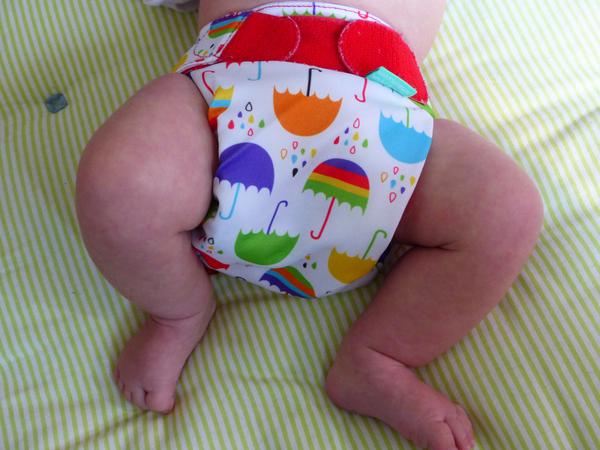 The diaper fit us very well right from birth (about 3.5kg). However, it would certainly have fit even with less weight, since it is cut very small. Initially, there was a little more fabric in the front, which has not disturbed, because it can be squeezed well and is soft and thin. The fit was very good in our case. The soft cuffs left hardly any marks. Meanwhile, my daughter weighs just under five and a half kilograms and the diaper still fits well.
Say goodbye to diapers online course
Learn how to make the transition from diaper to potty in my Farewell to Diapers online course.
For us, the absorbency was only enough for short diapering intervals during the day. One thing to note here, as with all diapers, is that maximum absorbency is only reached after multiple washings. At night, this diaper was insufficient in terms of absorbency, which, however, is often the case with AIOs. We used the diaper without an additional insert, because otherwise it was no longer properly sealed at the leg cuffs.
Washing and drying
According to the manufacturer, the diaper can be washed at 60 degrees. I had no problems at all. The absorbent core remains pleasantly soft even after repeated washing (without dryer). Drying takes a little longer than with other diaper systems, because here all components are sewn together. But because this diaper is still relatively thin overall, it was dry within 1-2 days in summer and fall.
Conclusion
The AIO from TotsBots in the newborn variant, is a diaper that can be used well during the day, when it is rather short diapering intervals. For on the go, it is well suited because it is a complete diaper that requires little effort. It's also really easy to diaper with, so that might be a good diapering system for skeptics.

The absorbency was not enough for us at night. The relatively high purchase costs must also be considered here, since the entire diaper must always be washed and you therefore need more diapers.

*This isan affilate link. With a purchase in the store you get 5% discount on your first order and I get a small commission.