Wearing in summer
Now comes again the time when I am asked a lot about what to consider when wearing in the summer and whether should be worn at all in the summer. To the second question I can say directly once that of course can be worn in the summer. On different things you can pay attention.
What is the best sling to wear?
In the summer, single-layer tying methods are especially recommended for the sling. These include, for example, the simple backpack and the kangaroo. This allows enough air to get to the sides of your baby or toddler. But the ring s ling is also well suited, as there is only one layer of cloth on the body.
Carriers are generally also suitable, as they are open at the sides. I would not recommend newborn inserts, etc. due to the thickness of the fabric at higher temperatures.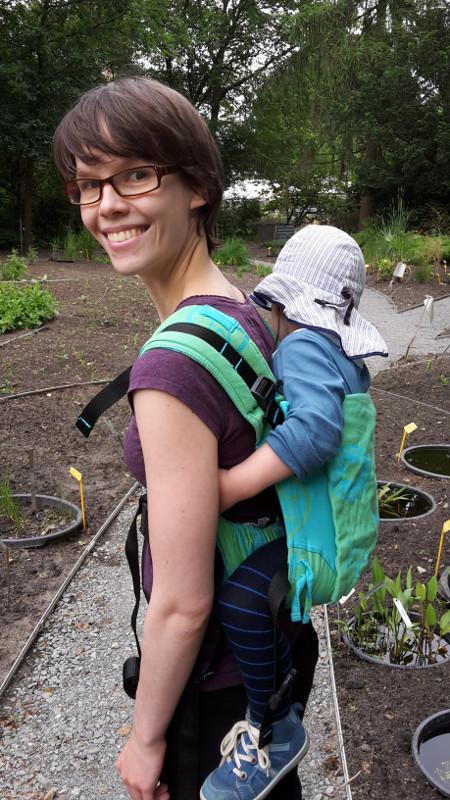 For slings, thin cotton slings are particularly suitable, other materials such as linen or bamboo have yet another way of balancing temperature and can provide more support at the same time, so single layer ties may also be comfortable for heavier children.
What should I wear for my child?
The baby's skin should be covered everywhere by a thin layer of clothing to protect against sunburn. Dark, loose-fitting clothing is particularly suitable because it provides greater UV protection. There are also special UV clothes, which provide additional protection.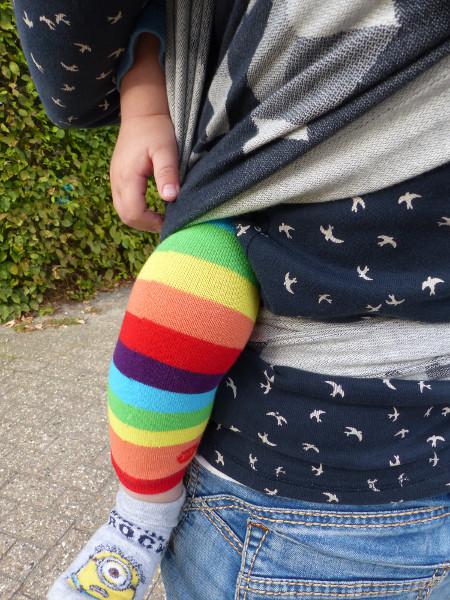 Also suitable are so-called babylegs, certain gauntlets that cover the entire leg of the child and are also available with UV protection. It is important that the head and feet are also covered, a sun hat and thin socks are perfect for this. Otherwise, I would dress the baby as thinly as possible, since the sling or carrier will be added as another layer anyway. Fabrics like wool-silk and thin cotton are also particularly suitable for the child.
Incidentally, mummy tends to have a temperature-equalizing effect when she sweats, so she does not usually heat up the baby any further. To prevent mom and baby from "sticking" to each other, a thin cloth or gauze diaper can be placed between the baby's head and mom's skin.
When and where is it best to wear?
Mornings and evenings are also more pleasant for us in terms of temperature, so that is also the best time for a walk outdoors. In general, however, we should spend as much time as possible in the shade. An umbrella can help. When carrying it, however, a simple umbrella is not enough then, as it offers little or no UV protection. However, there are special umbrellas that are the size of umbrellas. During lunchtime, I would recommend staying indoors rather than outdoors.
What else should I pay attention to?
After wearing it, it is important to change the mostly wet sweaty clothes. Otherwise, as always, it is best to check the baby's temperature in the neck and even better between the shoulder blades. There we notice best if the baby sweats a lot or if he is cold. We should also make sure that our children, as well as ourselves, drink enough fluids. For babies, this means offering the breast or the bottle again and again. Breastfeeding on demand is particularly important here.
And now I wish you a lot of fun carrying in the summer!