Baby walkers - The great guide
If parents want to support their child's upright gait, they should consider buying quality baby walkers. Because with the help of such special children's shoes, the offspring is optimally supported in learning to walk. For the sake of your child, anyone looking for suitable baby walkers will quickly discover how large the selection in stores is, so that the question arises as to what exactly makes a good baby walker.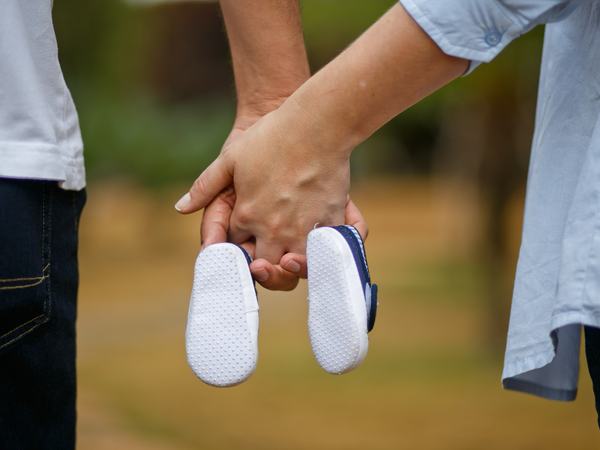 What are baby walkers?
Baby walkers are specially designed shoes for toddlers who are taking their first steps independently. Since the feet of small children are not yet fully mature, it is important to pay attention to proper footwear. Thus, they should have a special structure and be made exclusively of soft materials, so that the feet of the little dwarfs are not constricted.
A flexible sole allows children to roll their feet excellently and the heel is also supported by the use of good baby walkers. A higher shaft prevents twisting of the ankle. Baby walkers are always half shoes, because they provide the child with the necessary support during the first steps.
Even though the sole purpose of a baby walking shoe is to protect the child's foot - because the little ones learn to walk best without shoes - such a shoe still has a purpose: As soon as children start walking, their little feet must of course be protected from injury. So, at best, the child wears the barefoot shoes whenever he is out and about.
Buying baby walking shoes: What to look for?
The most important criterion when choosing suitable baby walker shoes is the quality. Even though children usually grow out of the shoes relatively quickly, parents should never make the mistake of buying cheap, second-rate models. In most cases, these do not meet the high requirements that must be met for the healthy development of children's feet. In particular, the following features should be considered when buying the baby walker shoes:
1. the size
As is known, children quickly outgrow their shoes, so many parents tend to buy the baby walker shoes one size larger than actually necessary. However, the child will not be able to develop a healthy gait in shoes that are either too small or too large. How to determine the appropriate length and width of the baby walker shoes, we will explain later in the section How to determine the right size?
2. the sole
Ideally, the first baby walking shoes should have a flexible, thin sole to support the natural rolling of the feet. This makes it easier for the child to learn to walk independently. Baby walkers with too firm, thick soles, on the other hand, should be avoided, as their comfort often leaves a lot to be desired. Only after the child has become accustomed to wearing shoes can baby walkers with firm soles be purchased.
3. the upper material
Of course, the child's feet should also be protected from moisture, so in the best case a water-repellent upper material is chosen. Here it depends in particular on the current season. In summer, this aspect plays a rather subordinate role, since airy shoes are worn in these months anyway. In autumn and winter, on the other hand, this feature should definitely be taken into account.
Most baby walkers are made of leather. This material should be regularly impregnated so that the small children's feet are not soaked. However, only shoes made of rubber are truly waterproof, but they should only be worn for a short time, if at all. Since this material is very stiff and inflexible, it is not suitable for the child's first independent steps.
How much do quality baby walking shoes cost?
This question can not be answered in a general way, because several factors play an important role, such as the brand, the material, the texture and the like. Branded shoes are usually more expensive than products sold by unknown manufacturers. However, this does not mean that no-name products are of inferior quality.
First and foremost, it is important that the walker shoes fit the offspring exactly, so that the foot development is not impaired. Inexpensive baby walkers are available - regardless of quality and design - starting at about 20 euros. There are hardly any upper limits to the price.
When should the child start wearing baby walkers?
Children do not need their first walker shoes until they take their first independent steps. Until then, crawling shoes are ideal, insofar as barefoot walking is not possible. Crawling shoes are shoes with a particularly light sole, usually made of suede. Such models are made of very soft materials and allow flexible movements of the little feet.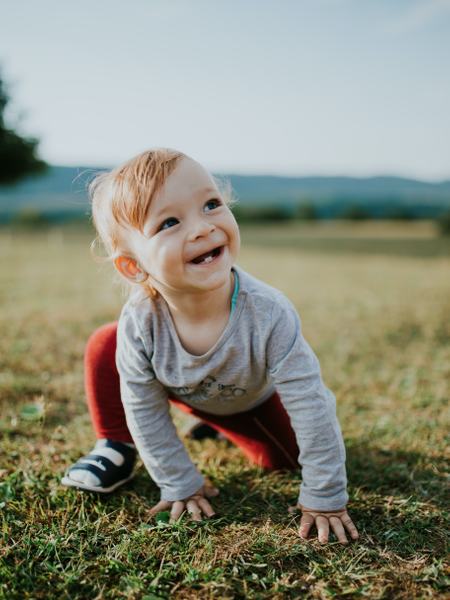 As soon as the little dwarf makes the first signs of wanting to stand on his own feet and move independently, parents should start looking for a pair of quality baby walkers.
Where to buy baby walkers?
Baby walkers, which are ideal for the child's first steps, are available not only in local shoe stores, but also numerous online stores carry many models from a wide range of manufacturers. While the customer can try on the shoes directly in the shoe store and also benefit from personal advice from the staff, the baby walkers are usually offered much cheaper on the Internet.
Both options have advantages and disadvantages, so parents must decide for themselves which retailer to choose.
What brands and manufacturers are there for baby walkers?
There are now many manufacturers and brands that offer baby walkers. Among others, the following companies carry baby walkers in their assortment or have even specialized in their production:
Elefanten
Bisgaard
Clarks
Thumbelina
Geox
Bobux
Wildling Shoes
Kickers
When buying, parents should at best note that it is a well-known, reputable brand, where you can expect a certain quality. Of course, the manufacturers mentioned here are only a small selection of the companies dedicated to making baby walkers.
How long do baby walkers usually fit?
Like the children themselves, the feet of the little ones also grow rapidly, especially in the first months of life. Many shoes are therefore often too small after just a few weeks. But despite the fact that children quickly outgrow their walkers, the right size should be chosen when buying. As already mentioned above, otherwise deformations and serious developmental disorders of the feet can occur.
Are used baby walkers also suitable for children?
Most experts strictly advise against buying used children's shoes. Since shoes quickly adapt to the footbed of the respective wearer, they are also correspondingly quickly imprinted on the wearer's feet. In addition, contrary to many opinions, you hardly save money when buying used shoes and hygiene is also an aspect that should not be disregarded here. From the purchase of used walker shoes should accordingly be refrained from.
Buying baby walkers: How to determine the right size?
Determining the size is also possible without the familiar measuring devices from the shoe stores without any problems. To do this, simply place the child on a blank sheet of paper so that the outline of the foot can be traced with a pencil. After both feet have been traced, a ruler is used to measure the length between the end of the foot (heel) and the longest toe.
You can also find a great sizing template for determining children' s shoe size at www.intuitiveeltern.de in the article 5 fundamental tips for buying children's shoes. Or you can use this direct download.
Then add 12 millimeters to the length. Last but not least, parents can easily find the right size in a size chart that most manufacturers provide. In the following sample table, we have listed some guideline values, although the exact size specifications of the shoe manufacturer must always be taken into account.
| Length of the shoe | Shoe size | Age of the child |
| --- | --- | --- |
| Length: 9.7 cm | Size 16 | (0-1 year) |
| Length: 10.4 cm | Size 17 | (0-1 year) |
| length: 11 cm | Size 18 | (0-1 year) |
| length: 11,5 cm | Size 19 | (0-1 year) |
| length: 12,3 cm | Size 20 | (0-1 year) |
| length: 13 cm | Size 21 | (1-3 years) |
| length: 13,7 cm | Size 22 | (1-3 years) |
| length: 14,3 cm | size 23 | (1-3 years) |
| length: 14,9 cm | size 24 | (1-3 years) |
| length: 15,5 cm | size 25 | (1-3 years) |
| length: 16,2 cm | size 26 | (1-3 years) |
In summary, the sizes of baby walkers are not standardized and therefore vary. Parents should therefore not just follow any size table, but should take the values exclusively from the shoe manufacturer's own table.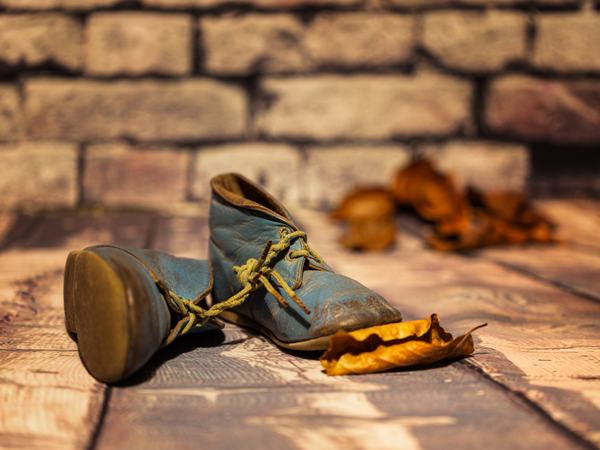 It can also be observed time and again that some parents press their finger on the shoe from the outside in order to determine whether the correct size has been found. However, this is not a reliable method for determining size.
What types of baby walkers are there and what are the differences?
A distinction is made in baby walkers between crawling shoes, walkers with a firm sole and walkers with a minimal sole. Each of the models is best suited for a very specific phase of the child's life:
Crawling shoes
If the child is still exploring the world on all fours, crawling shoes are ideal. They ensure that the little feet stay clean and warm and offer a lot of freedom of movement due to the soft materials. Nevertheless, they prevent slipping on slippery floors and can also provide some support during the first attempts to walk. However, crawling shoes are not suitable for outdoors.
Especially recommended are crawling shoes with elastic, because they are easy to put on and do not constrict the little feet. On the page of schuhediegesundmachen.de you will also find a good overview of which crawling shoes are useful.
Toddler shoes with a firm sole
Once your little one has taken his or her first steps, it often happens very quickly and they want to explore the world on both feet. Crawling shoes are then no longer sufficient because they cannot protect the feet from injury. For this, footwear with a firm sole is necessary. Here, there are also enormous differences in materials, fit and design.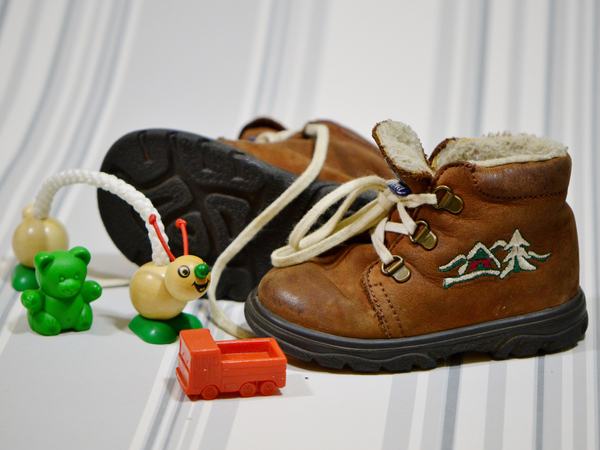 The fit must ensure that the shoe does not constrict the small feet. In some models, the shaft is also not high enough for small still chunky children's feet. Even then, the shoes are quickly too tight. It is important that the shoe does not have too stiff and firm a sole, so that it also allows flexible movement.
Baby walker shoes with minimal sole
Minimal shoes are often called barefoot shoes. These are thin and particularly flexible baby walker shoes that support the natural ball gait. Such models not only guarantee natural foot development, but also ensure a steady build-up of leg muscles.
Shoes with a minimal sole can usually be recognized by their light weight. In addition, they have no heel and are provided with a very thin sole.
Conclusion
Baby walker shoes support children in their first steps and ensure a safe gait. If you pay attention to the above-mentioned buying criteria, you will quickly find suitable baby walker shoes for your offspring, despite the huge selection.
Image sources: