Emilino wool diaper
We test ourselves since the birth of our daughter through various newborn diapers. And so we have also used the wool diaper in Newborn from Emilino very much. I would like to report about our experiences in the following.
Information about the manufacturer and description of the diaper
Emilino is a German manufacturer. It was founded by Katrin, a mom of three children. After diapering her first child with disposable diapers, she wanted to switch to cloth diapers for her twins. Because she didn't want to have those piles of trash anymore. So she tried different systems and ultimately wool was her favorite as an overpant. Then she first developed a wool shorty and longie. Later she expanded her range.
Perhaps some still know Emilino by the old name Kleo.
The Emilino wool diaper is a wool nap overpants. It therefore serves only as a wetness protector and requires an absorbent insert. The overpants are available in two different sizes: Newborn, which according to the manufacturer should fit from birth to about 7kg, and One-Size, which should fit from 7 to 15kg. I describe here my experience with newborn overpants.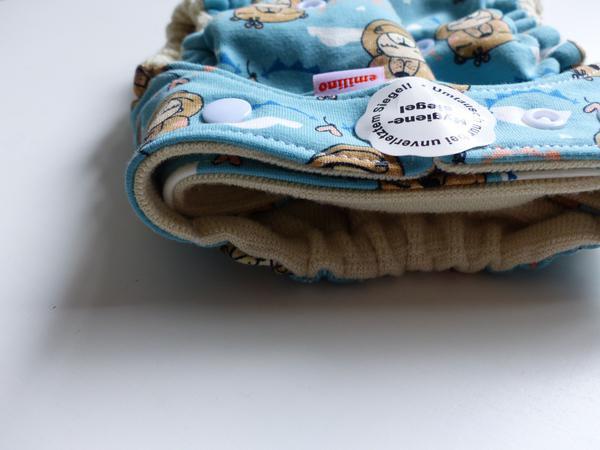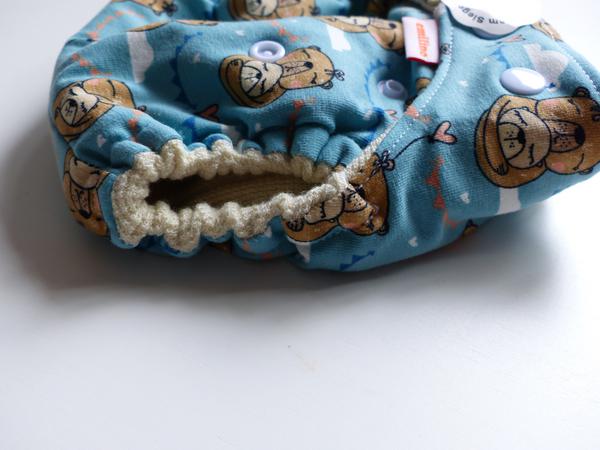 The overpants have cuffs on the legs and back, which are supposed to prevent leakage and provide a better fit. Overall, the diaper is cut rather narrow, so panty diapers (HöWi's) could not be used well underneath. The wool diaper can be reduced in waist height by one step with the help of snaps. It is closed with the help of a simple row of snaps, and the ends can also overlap.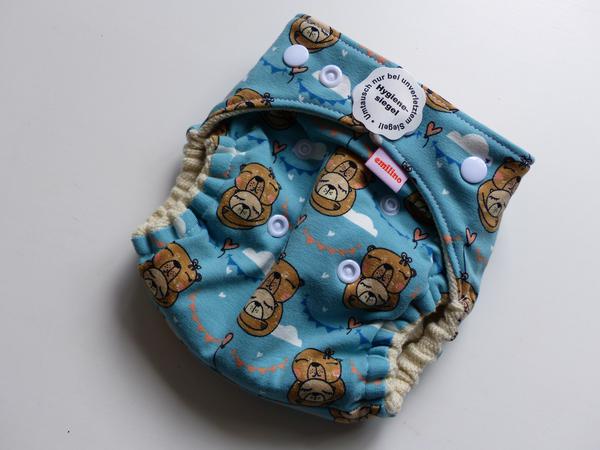 In terms of price, the wool diaper in Newborn is €33.95 and in One-Size is €37.95. Some models are in stock and therefore available for immediate delivery, others still need to be made and therefore have a longer delivery time. In the store 3-5 weeks are indicated.
Materials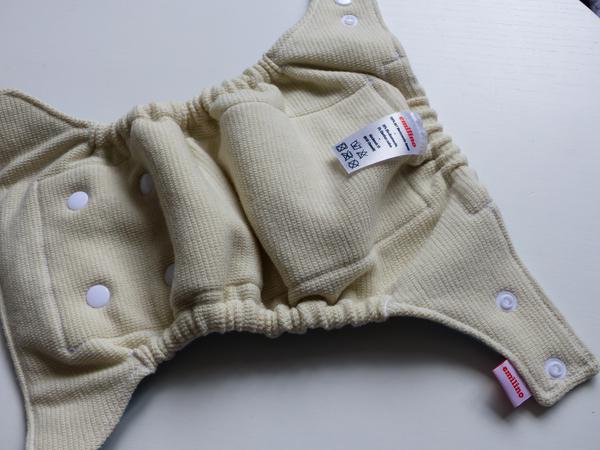 Emilino's wool diaper is, as the name suggests, made of 100% wool on the inside. Emilino uses organic merino wool kbT for this purpose. So that the wool can fulfill its wetness-protecting function, it must be greased accordingly. How this works I have described in this article.
The outer fabric in the case of my test diaper is made of stretchy jersey, which consists of 95% organic cotton kbA and 5% spandex. Other models now also have 100% linen as outer fabric, this fabric is then not stretchy.
In the test
We have used the diaper directly from birth. Here we have reduced them in the waist height with the snaps. We were immediately thrilled. The narrow fit fits well and wears little. We used them with one or two soaker pads of cotton or tree bus viscose. Prefolds also fit very well here. We couldn't use panty diapers underneath well because the wool diaper is cut too narrow for that and always had a part peeking out, drawing wetness from the clothing.
The stretchy outer fabric makes it nice and easy to put on. My daughter also only had slight marks after wearing the diaper. Currently, my daughter weighs just under 5kg and we still use the wool diaper downsized, so it will certainly fit longer.
Washing and drying
Washing the diaper is straightforward, it is washed by hand with wool detergent. After washing, the wool diaper must be greased with either wool grease or a wool cure.
Conclusion
I can only recommend the wool diaper from Emilino. It has a good price-performance ratio. I especially like the elastic version, which makes it even easier to put on. In my opinion, it is also worth buying a newborn diaper here, because it fits relatively long. My husband is certainly thrilled and would prefer not to use any other diapers.