Essential oils for baby time
Already during the last pregnancy I was interested in essential oils. So I used them sometimes for relaxation. However, the areas of application here are very diverse. So it fits very well that I was allowed to meet Marike Hansen and she has agreed to publish an article with all the important information about essential oils in my blog. Here you will learn everything you need to know to get started. (Natalie)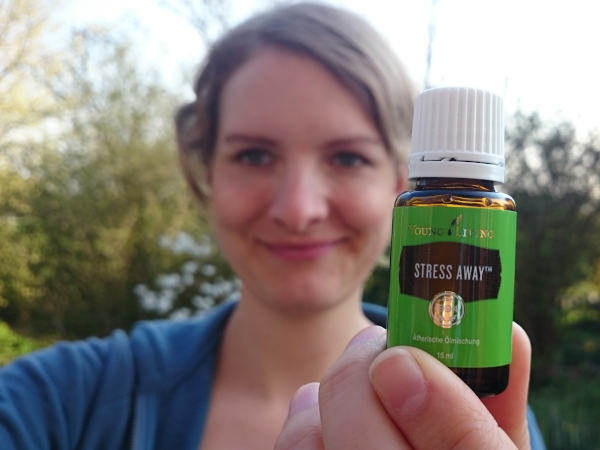 My name is Marike Hansen and I live with my family in Bremerhaven. I have been working as a cloth diaper consultant for three years and as a consultant on essential oils for about two and a half years.
But what are essential oils actually?
They are the extracts of the plants from which they are derived. They are essential, so they are volatile, but not oily. However, they are miscible with oil, not water.
Wikipedia describes them as follows:
Essential oils contain secondary plant constituents that can serve to attract insects for pollination, keep pests away, or protect against disease (e.g., caused by bacteria or fungi). Essential oils are composed of many different chemical compounds.
You can find the entire entry on essential oils on the respective Wikipedia page.
They have been used to promote health since time immemorial and continue to bring us the same benefits today.
And how did I get the oils? Or did the oils come to me?
During my turbulent toddler years, a few essential oils came into our home with or through my mother. Lavender oil was said to be so relaxing for the night... our little daughter got a foot massage in the evening and the next day we were less overtired than usual.
I started using different single oils and blends for ourselves. The effect came immediately with some oils, with some after a while, but all the more profound for it.
There had to be something to these plant extracts. And somehow they were different from the two oil blends that had been in the back of the bathroom cabinet for years since I had been making bath balls myself....
I began to research, educate myself, and learned about the many uses of 100% pure essential oils.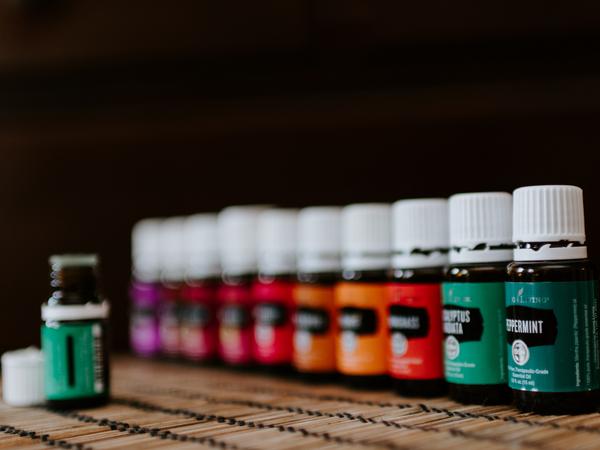 Wow. What I understood to be especially important was the quality of the oils. Because the oil of a single plant consists of 200 to 500 individual components. And only if everything is done correctly in the cultivation, harvesting, distillation and subsequent quality tests, these components are also in the oil.
It is then a complete oil and can thus support each person through the synergies of these many components.
How do essential oils work?
Our nose absorbs the fine molecules of the oils particularly well. They pass through the olfactory nerve from the nose directly to the brain. There they arrive in the "old" part of the brain - the limbic system with the amygdala.
This is the emotional control center of the brain, and this is also where old emotional memories are located. From here, in stressful situations, commands are given to the body past the prefrontal cortex (our "new" part of the brain, which thinks rationally and evaluates logically).
This was totally important in former times, after all it was about escape or fight with a saber-toothed tiger. However, many of our stressful situations today are of a different nature, namely not life-critical. Nevertheless, the body runs the stress program: arms and legs are supplied with more blood, all repair mechanisms of the body are suspended. This is pretty bad for our health in the long run.
If we now take in the scent of relaxing or balancing oils, our stress reflex in the brain also relaxes and the body is supported to control itself in a sensible way - instead of letting possibly harmful reactions run in escape mode. We arrive more in trust and in ourselves, we get less stuck in old emotions or beliefs and our mood can change instantly.
If we apply pure essential oils to the skin, the small molecules pass through the cells into the blood, are transported and reach the respective cells of the tissues and organs. They have this ability partly because of their size (they are very small) and partly because of their fat solubility. This allows them to pass through the cell membrane and take effect where the body gets the most benefit.
Which oils are most beneficial to me during pregnancy, childbirth and for the time with my baby?
Lavender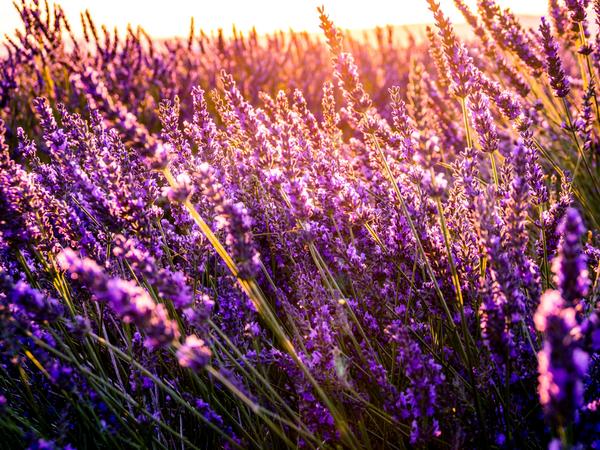 Probably the most universal essential oil is lavender oil. Its balancing and relaxing effect is well known. Especially in the evening, when body and mind are allowed to rest, lavender helps to let go of the thoughts that come up again. The next morning can thus be started rested.
At the same time lavender cares for the skin. Especially the mother's belly experiences well-being during, but also after pregnancy, by rubbing with a lavender cream. For this purpose, the oil can be mixed with a fatty carrier oil, e.g. raw coconut oil, and massaged in over a large area according to your own feeling.
Important: the relaxation of all muscles, and so also of the uterus, is naturally supported by lavender oil. Therefore, it should not be used from the beginning of the birthing period until after the birth.
In a dilution (see below), a lavender cream is also good for the care of baby's diaper area. And of course, heavily stressed (children's) skin also benefits from the soothing and caring properties.
It is important that it is pure lavender of the plant Lavandula angustifolia. Because with lavender it is so similar to strawberries. There are simply far fewer strawberries harvested than are needed for consumption from strawberry yogurt to strawberry pie, etc. There is also a lot less lavender harvested than anywhere that says lavender on it would have real lavender in it.
A few words of background: I studied biotechnology. There are simply methods to genetically modify yeasts so that they excrete the main ingredients of lavender oil as a metabolic product. This allows lavender oil to be stretched - as much as 75% - and still call itself 100% natural essential oil. This is where the subtlety lies. A genuine (lavender) oil always bears the label 100% pure or natural essential oil!
Tangerine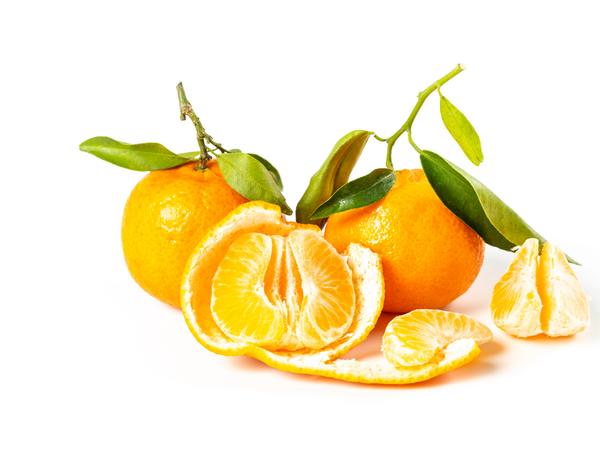 The oil of the citrus fruit brings us not only joy and positive thoughts, it also lets go of everything negative. Letting go is meant in every sense. Tangerine supports the letting go of old beliefs, anxiety-provoking or paralyzing thoughts and thus strengthens self-confidence. But also the whole body can let go more relaxed with tangerine. For babies, children and also adults it is therefore the right choice for a healthy digestion.
Important: Citrus oils are photosensitive. This means that brown spots may appear on the skin up to 24 hours after application during sunbathing. Therefore, the soles of the feet are always a good place to apply.
Gentle Baby
The oil blend Gentle Baby (Gentle like a baby) was specially composed for pregnancy, birth and baby time and is therefore pleasant for mother and baby. The contained oils such as geranium, rose, and palmarosa are beneficial for the skin to cope with the changes of pregnancy.
Jasmine, Roman chamomile, and bergamot can balance emotional tension. Ylang ylang, lemon and lavender lift spirits, self-confidence and an inner harmony.
Peace & Calming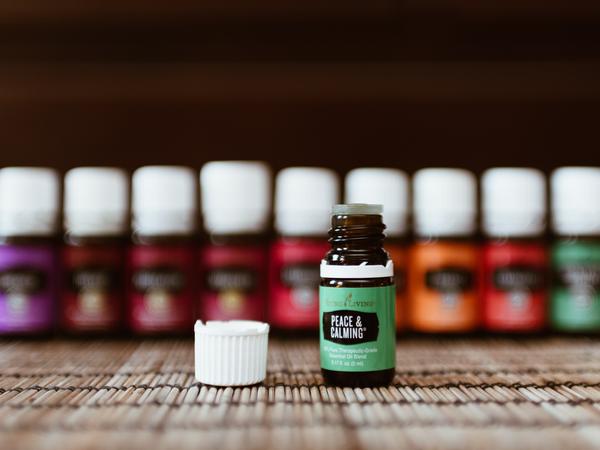 As the name Peace & Calming suggests, this oil blend brings us to our inner peace. It lets everyday life or problems just slip away and helps deep peace to come to light.
In addition to the already mentioned oils of mandarin and ylang ylang, blue tansy, patchouli and orange are also included. The grounding feeling makes it easier, especially in the evening or in small breaks, to switch off completely for once. In this way, even hyper (small) children can be supported in arriving at a calm state of well-being.
(Of course there are other single oils and blends that strengthen strength and confidence in this special time but also in all other areas of life, relax our emotions and support our body in all its challenges. However, this would go beyond the scope here and can be sniffed out well in a consultation).
How do I apply essential oils?
Any oil can be dropped into a palm, rubbed between the hands, and then inhaled in front of the nose. Essential oils can often be applied directly to the skin in adults. However, they never belong in the eyes, ears, or undiluted on sensitive skin areas/mucous membranes.
For skin irritation, a fatty oil such as coconut oil should be used for dilution and relief. For children and babies, dilutions are recommended or essential. On the hands, neck or temples, the oils remind us every now and then of their beneficial effects. Under the feet they can be massaged in well and packed in socks they remain safely hidden from the people around us, without any sacrifice for us.
What are the particularities for babies and small children?
Especially for babies and small children, oils should always be used sparingly and in dilutions. A newborn should not come into direct contact with them, here it is enough if the parents use the oils.
For smaller and larger babies, dilutions of 1:30 to 1:20 with fatty carrier oils such as virgin coconut oil can be used. For young children, 1:5 mixtures or mixtures already pre-diluted for children 2 years and older can also be applied directly.
A good place to apply the oils is always the feet. With socks over them, nothing can be sucked off. Also when nebulizing in the diffuser, the dosage should be adjusted accordingly. In case of doubt, set the dilutions higher to be able to estimate the reaction of the small body.
Where can I get essential oils?
Only pure and complete essential oils should be used in all areas of life (see above). Therefore, I work exclusively with Young Living oils. The Young family founded Young Living Essential Oils 25 years ago and did extensive research on cultivation, harvesting, and a gentle distillation process years before that. All of the benefits and uses mentioned here apply exclusively to these oils.
An important note: Since the oils are approved as a skin care product and not as a medical product or the like, no healing claims or prescriptions for illnesses, etc. may be made. The oils serve to support all bodily functions and emotions, and they are just incredibly good at that!
In and around Bremerhaven, the oils can be purchased through me. In the Internet orders are possible directly over Young Livings Website www.youngliving.com.
Further information about Marike Hansen
Marike is a consultant on essential oils and cloth diapers. You can find more information about her and her offers on her websites stoffwindelberatung-bremerhaven.de and team-freiheit.de. Marike is also an independent distributor for Young Living. You can order from Young Living through Marike's referral with ID 12 12 72 00.
Image sources:
I picked out some of the images used for the article on unsplash.com. Here follows a detailed listing with links: