How babies slumber peacefully in the first year of life - tips and recommendations for a peaceful night.
As a mother, you naturally want the best for your baby - especially a good night's sleep at the beginning. A healthy sleep routine is an important prerequisite for optimal development and a happy life for your child. But the topic of baby sleep can also become a challenge for many mothers. How much sleep does your baby need? How can you help them sleep well and safely? In this article, you will learn everything you need to know about baby sleep in the first year of life and receive useful tips and recommendations to help your baby sleep well and develop optimally.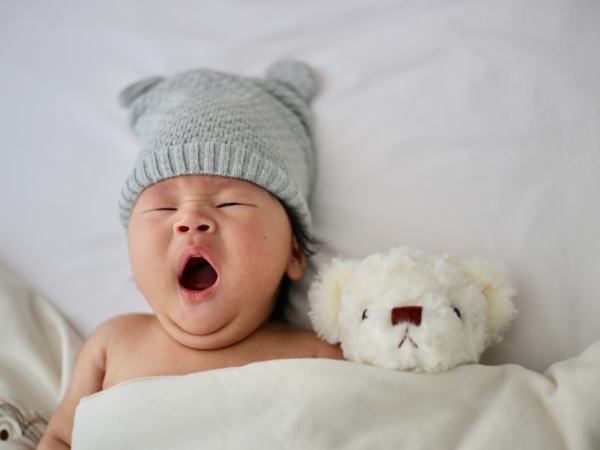 Baby sleep in the first year of life
In the first few months after birth, babies sleep a lot, often up to 16 hours a day. They usually sleep in short intervals of 2-4 hours and wake up between sleep phases. During the first year, your baby's sleep patterns change. He sleeps less and sleeps more often through the night, whereby sleeping through the night means five hours of sleep at a time.
Babies' sleep phases
Babies go through different phases during sleep. During deep sleep, they don't move much and their breathing and heart rate are slower. During the REM (rapid eye movement) phase, they move their eyes and there is increased brain activity. During this phase, they may be dreaming.
Sleep environment for babies
The sleep environment is important for your baby's sleep patterns. It should sleep in a safe and comfortable crib that is not too big. It's important that the bed doesn't have loose items like pillows or blankets that can cover your baby's face. Instead, use sleeping bags or swaddle blankets that will ensure your baby doesn't get cold and still sleeps safely.
Sleep rituals for babies
Sleep rituals can help your baby prepare for sleep and fall asleep faster. These include reading a story aloud, singing a song, or rocking in a crib. Likewise, not breastfeeding or feeding your baby to fall asleep can help. However, for some babies, separating sleep from food can also help. This way, it learns that it always gets something to eat to fall asleep, and then it can't fall asleep without sleep aids. However, this is only necessary if the sleep situation is really stressful and the reason for the sleep problems is due to this connection, which is rarely the case.
Invidual sleep consultations
If your family is very stressed by the current sleep situation with your baby, an individual sleep consultation can help. This is not comparable to various sleep trainings such as the Ferber method or the controlled crying method. Such trainings are very rigid and are not based on your baby's needs or your family situation. Individual sleep counseling, on the other hand, is tailored to your family's needs and can help you find a solution to your sleep problems.
Tips for better baby sleep
Try not to overtired your baby. An overtired baby often falls asleep worse and wakes up more often.
Provide a quiet and dark sleeping environment. Avoid bright lights and loud noises.
Try to establish a set sleep-wake ritual that helps your baby prepare for sleep.
Make sure your baby doesn't go to bed hungry or thirsty.
Check to make sure your baby is in the right sleeping position. For the first six months, babies should sleep on their backs to reduce the risk of sudden infant death syndrome.
Soothe your baby if he cries or is restless, but don't lift him out of the crib right away. Give him a chance to fall asleep on his own.
Learn to read your baby's signals. If he is tired, let him sleep and don't keep him awake.
Do you have a cry baby?
Some babies may suffer from a so-called regulatory disorder that affects their sleep. Often, such a baby is called a cry baby. With this disorder, babies have difficulty expressing and regulating their physical needs, such as hunger, thirst, tiredness, or pain. This can cause them to cry often, be restless, and have trouble falling asleep or staying asleep through the night. If you want to learn more about regulation disorders, check out swing2sleep's comprehensive writing baby guide. If you feel that your baby is suffering from a regulation disorder, you should contact your pediatrician or a sleep counseling center. A possible solution to this problem are so-called spring cradles, which can gently and carefully support your baby's sleep. These cradles gently rock your baby up and down and can help him or her feel safe and secure and sleep better.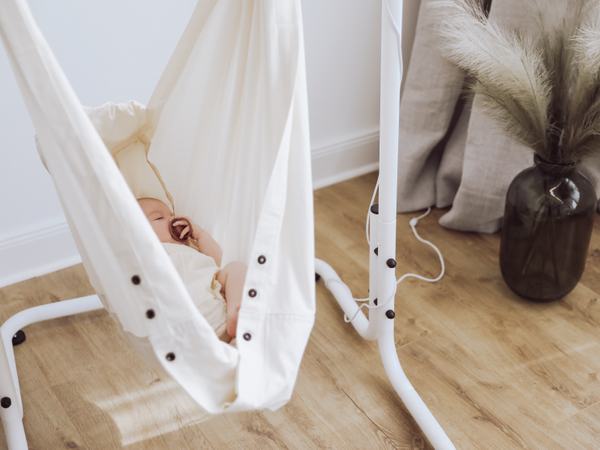 Healthy, restful sleep is important for your baby's development and health. By following the tips and information in this article, you can positively influence your baby's sleep patterns in the first year of life and make sure he or she sleeps better. Remember that every baby is different and you need to find out which method is best for your baby. With patience and love, you can help your baby become a good sleeper.
Image sources
Cover image and image 2 are from the author of the article.