How to make your home baby-proof?
The topic of safety plays a role in everyday life right from the birth of a baby. Parents hear from everywhere that they have to be careful that the baby doesn't fall off the changing table and that they just have to hold it tight while bathing. In this article I would like to give an overview of which safety aspects are important in life with a baby. In doing so, I do not claim to be exhaustive.
Just as my daughter became more mobile, I also had to deal with the topic again, because this time with my son is now a few years ago. So every time has its safety aspects that need to be taken into account. In the article, I mainly refer to the first year of life, although many aspects still apply long after that.
Result
After I have once again intensively studied the topic of safety in everyday life with babies, I have found that many aspects are very logical and yet I always learn new things that I would not have thought of without reading up. Overall, though, it's relatively easy to baby-proof the home with just a few things.
discover safely
Children are curious by nature and want to discover and grasp their surroundings. It is important that this environment is designed to be as safe as possible. This means that the child does not have to be constantly restricted and can live out its desire to discover. I like to say that a yes environment should be created, where parents don't have to say no so much.
At home, there are several factors that need to be considered for the safety of babies and toddlers. These include that all accessible outlets should be secured with an outlet protector. It is important to note that more mobile children also like to climb. Balcony doors and windows should also be appropriately secured with a window and balcony door guard.
If there are stairs in the house that the baby can reach, stair guards are very important, both at the top and bottom. The stair guard should be such that the baby can not get between them or climb over them. There are various stair guards available at Jako-o.
Cables and plugs should be checked regularly for defects and replaced if necessary. Power cords should generally be secured and, if possible, attached to the wall or out of reach. Televisions should be firmly screwed on. Here, for example, Jako-o offers a TV tilt protection. Furniture that could tip over must also be secured to the wall or have an anti-tip device fitted.
It is also advantageous to avoid tripping hazards. If carpets are slippery, a non-slip pad can help.
Dangerous objects should always be placed upward or out of reach. This is especially true for sharp objects such as knives, but also for cleaning supplies and medications. Medication should also be locked away. Cabinet doors, for example, can be secured with a multi-safety device, drawers with a drawer safety device. Small items or the toys of older siblings should also be located higher up, or otherwise inaccessible.
For mobile children, it is advantageous if furniture corners are padded with a corner protector. The high chair should be tip-proof and the child should not sit in it unattended.
Baby walkers should be avoided because they significantly increase the risk of accidents.
Tablecloths are also unsuitable for everyday use with babies, because they can quickly pull glasses or similar items off the table. Plastic bags should also be kept out of reach. The same applies to hot liquids such as boiling water from the kettle. A stove guard can also make sense.
Outside, pond, rain barrel, etc. should also be secured. A cover, a fence or a grid can help here. Cigarettes and ashtrays should also be kept out of babies' reach.
safe sleep
The topic of safe sleep is one that many parents are very anxious about. This often involves the risk of Sudden Infant Death Syndrome (SIDS). Various factors must be taken into account to ensure safe baby sleep.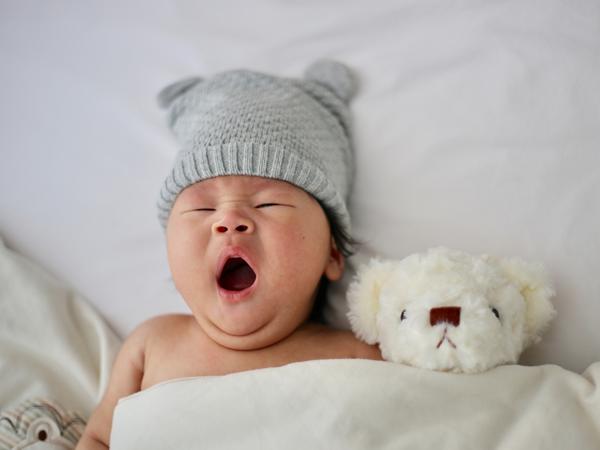 The German Federal Center for Health Education therefore recommends sleeping exclusively on the back, with the head of course not covered. Pillows should not be used, and sleeping bags are the best substitute for blankets. The bedroom should be smoke-free and have a temperature of 16-18°degrees.
There should be no additional objects in the bed, such as cuddly toys or nests. Whether the baby should sleep with in the parents' bed, in its own crib in the parents' bedroom, or in its own room depends on the needs of the parents (and the baby). When sleeping together in the family bed, various other factors should be taken into account, such as that the parents have not drunk alcohol. For more mobile babies, fall protection is also recommended. For example, this bed barrier from reer is available from Jako-o.
You can find more information on safe sleeping environments for babies in the article "The right sleeping environment for babies" from www.kindergesundheit-info.de.
Safe swaddling
When changing diapers, it is important to never let the baby out of your sight. Even small babies manage to fall off a changing table or couch with the help of their reflexes.
Therefore, all necessary items such as washcloths or wet wipes, a change of clothes and fresh diapers should always be within reach.
It is also an advantage if the changing table has raised sides to reduce the risk of falling.
Safe bathing
Whether the baby is bathed in the bathtub with mom or dad, or in a small baby tub or bath bucket, depends on the needs of the parents and those of the baby. Most babies enjoy bathing very much.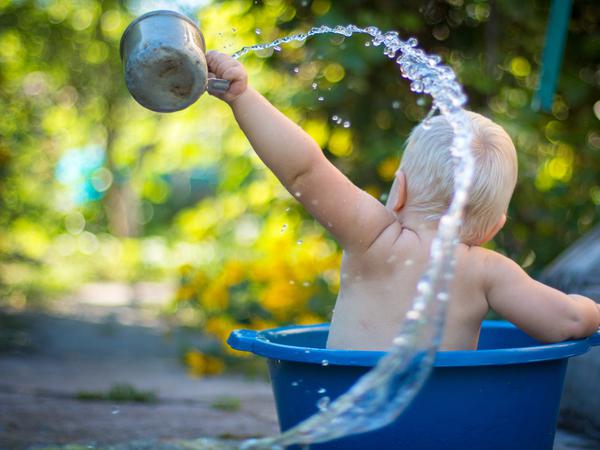 It is important, especially in the early days, that babies are bathed at an appropriate temperature, which is about 37 degrees. A special bath thermometer can be useful for this. It should also be noted that small babies cannot yet maintain their temperature very well, so bathing should not be too long.
As with diapering, all the necessary utensils should be ready. The baby should be held tightly the whole time. Those who bathe with the baby may find an anti-slip device pleasant.
Safe in summer
The topic of sun protection for babies regularly leads to discussions. In this article, I will follow the recommendations of the German Skin and Allergy Aid Association (Deutsche Haut- und Allergiehilfe e.V.). The website www.dha-sonnenschutz.de describes which sun protection is important for babies. It is about the right clothing, the appropriate sunscreen and also why sun protection is necessary in the first place.
I can read there that the function of the skin to protect itself (at least to some extent) is only fully present in the teenage years. This means that the skin of babies and children needs special protection.
Therefore, babies should stay out of the direct sun as much as possible. However, even in the shade there is a risk of sunburn, because only up to 50% of UV radiation can be intercepted.
When using sun cream, care should be taken to ensure that there is protection against both UV-A and UV-B rays. The cream should also be dermatologically tested and the ingredients should be safe. You can find more information on sun cream in the article "Sonnenschutzmittel" ("Sunscreen" ) by the Deutsche Haut- und Allergiehilfe e.V. ("German Skin and Allergy Aid").
In addition to sunscreen, clothing can also provide protection against UV radiation. For this reason, the sun protection factor USF is indicated on some textiles for orientation purposes. More information about sun protection in general can be found in the article of the same name "Sonnenschutz" of the Deutsche Haut- und Allergiehilfe e.V. (German Skin and Allergy Aid).
Safe transport
There are various options for transporting babies, depending on the needs of parents and baby, but also on the distance.
Basically, all means of transport (but also toys, etc.) should comply with current regulations and be tested for harmful substances. There are various quality seals that provide information on this.
For transport in the car, a newborn car seat is required, which fits most babies for at least the entire first year of life. This should always be attached according to regulations and the baby should be firmly strapped in. You can find out which infant carriers and also follow-on seats fit best in a consultation at an appropriate specialty store. As a general rule, babies should spend as little time as possible in their infant carriers.
Appropriate securing is also necessary for transport by bicycle. For babies who can not yet sit, there are few options, from sitting age there are different variants in various price categories.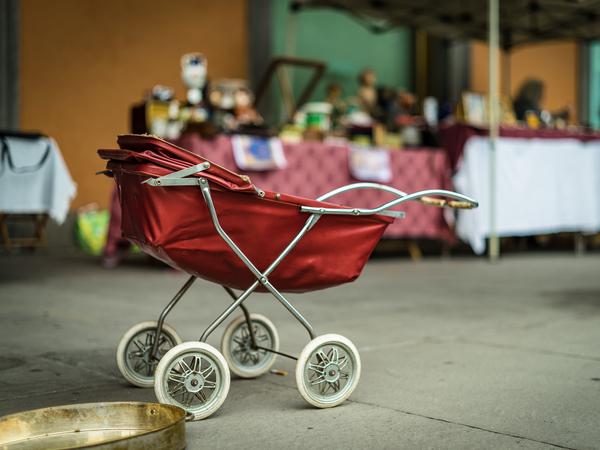 For the stroller is also true that current regulations should be met. When carrying in a baby carrier or sling, attention should also be paid to materials free of harmful substances. Especially in winter, however, babies are safer on the body because they are warmed there by mom or dad. You can read about what basically makes a good baby carrier in my article "What makes a good baby carrier?".
For all carriers, the airways must always be free, i.e., no fabric must cover the face.
Safe in all other respects
What applies equally to all areas is that babies must never be left alone with cords, strings or cables.
Various safety aspects must also be observed with babies when dealing with animals. In addition, the baby should be familiarized with the body signals of animals as early as possible.
A good overview is provided by the parents' guide to accident prevention in childhood "Kinder schützen - unfälle verhüten" (Protecting children - preventing accidents ) from the Federal Center for Health Education, which you can download or order on the linked page. It also contains various checklists that make it easier to secure your own home.
Conclusion
In the different areas I have shown in the article, which aspects are important for the safety in everyday life of babies. I have, the most important things for me, for a safe home written down from socket protection to the safe pond. Also in relation to sleeping, bathing and diapering I have described how the appropriate environment should be designed.
Further I went into the correct sun protection and the safe transport in the car, stroller and when carrying. Finally, I briefly discussed how to handle animals and where I can get more information on how to avoid accidents.
What do you think is most important to baby-proof the home? Do you have any additions I may not have thought of? I look forward to reading your thoughts in the comments.
This article has been created in collaboration with the online store of Jako-o. In the article are therefore linked various products from this store, which are suitable for baby proofing.
Image sources:
The cover image comes from unsplash.com.
The image of the stroller in the article comes from unsplash.com.
The image of the yawning baby in the article comes from unsplash .com.
The image of the baby in the tub in the article comes from unsplash .com.