Interview with goldsmith and jewelry designer Citlali
I myself have been self-employed for over eight years now and I keep noticing the advantages, but also the disadvantages of being self-employed with a family. I got to talk to a wonderful woman who is also self-employed and has two children. I hope you enjoy reading this!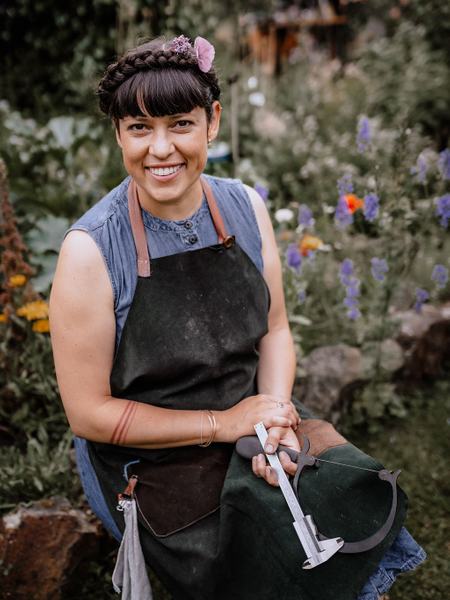 Hi Citlali, first of all I'm very happy to ask you a few questions about you and your work. I am already very curious! Would you like to introduce yourself briefly: Who are you? What do you do? What makes you as a person?
Hi Natalie,
I am glad to be here too.
So I'm Citlali Bierbaum, jewelry designer and goldsmith. I love working in my workshop where my creativity takes wings. Kitschy and true.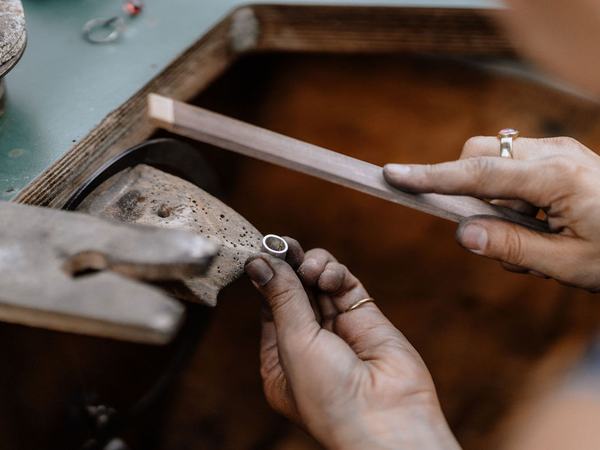 What makes me as a person? I think I'm a do person, empathetic, have an eye for detail and think there's always a solution.
Now you're self-employed. Would you say that being self-employed influences your everyday life as a mom?
Yes, in the sense that I organize myself differently than before. I work when my big girl is at daycare and sometimes in the evenings when the kids are in bed. I would like to have a store at some point, however, it is more practical this way at the moment. My customers can come to my studio by appointment and otherwise they can find me at some markets or exhibitions.
And the other way around? Does your role as a mom influence your work? If so, how has it changed your work?
Yes, it does.
Well, jewelry is not just an object that decorates us. Through its longevity, it tells stories, sometimes it reinforces identity or shows our taste, and most importantly, it is often connected to emotions. This is exactly what I like about jewelry.
Since I have children, more pieces of jewelry gain a special meaning. A new area of life has opened up to me and so I also make jewelry related to the bond as parents - birth gift to the wife or husband; the experience of birth - own gifts, because you are proud of yourself to have experienced/mastered/experienced the birth or just to process the grief.
Are you currently working with baby? If so, how do you organize yourselves as a family here?
Yes, I am currently working with baby. Our second whirlwind is now five months old and I've been back at the value table for a month. I have missed my work so much and am now ready to start again.
Luckily, our big girl goes to daycare, so my husband and I can use the mornings for work. We alternate the afternoons.
My work is still often interrupted because my little one needs me then. At the moment it is still quite easy. With the carrier, I can work and my baby can sleep well. I occasionally take turns with my husband. Thank you at this point to you for the wonderful advice. Our baby and back thank you very much.
Well, I think this will get really exciting when he starts crawling and so on. Then we will find another solution.
Are you happy with it? What could be better? What would you like to see?
I am satisfied with it on the whole.
It could be more relaxed for me if I would part with a few beliefs. Generally speaking, such as: I am the mom and therefore responsible for the baby and the household. For my work anyway. Sure I read Nora Imlau, Nicola Schmidt etc. and they encourage me to say goodbye to such beliefs. What a process, I tell you. I would wish that the way there does not drag on so long and arrives faster in my doing, because I have understood it all.
Since I now manage quite well to be mild with myself more often, it helps me when impatience does come up.
I'd love to talk a little more about your work. Do you design special jewelry for moms? What are the specialties?
Yes, I have actually designed nursing necklaces. They are polygons made of wood in different colors. The colors are of course suitable for children's hands and mouths. In the middle is a silver tube. On the outside, some polygons have variants with silver inlays. The number of polygons is determined by the customer*. All of them are threaded on a fabric or leather strap. So no clasp is necessary and the length is variable.
It was important to me that these necklaces can be worn not only during breastfeeding, but beyond that, look good. A simple and colorful accessory.
I still made small pendants, small medallions on which I stamped the word WE, because I find that such a wonderful word. But I can also stamp a name on it or something else. Basically anything that is wearable and carries a memory is possible.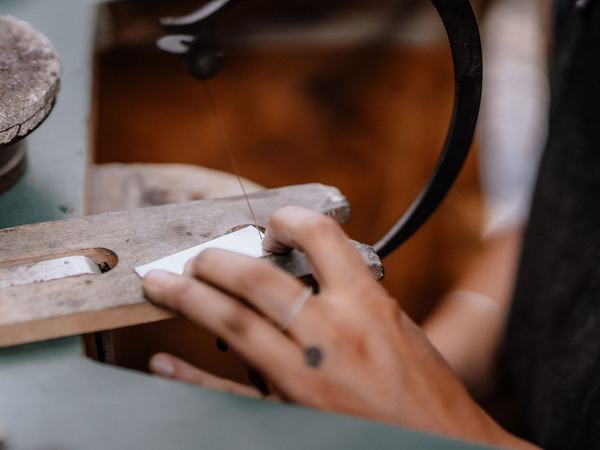 Would you say that the requirements for jewelry for moms are different again, maybe especially for moms with young children? Or do you think it makes no difference and is generally a matter of taste?
Hm. So it's actually a bit of a matter of taste. However, moms need until the kids are about 1.5 - 2.5 years old jewelry that doesn't hang or scratch too much to avoid snagging or scratching.
How much time goes into developing a piece of jewelry - from the idea to the finished necklace, for example?
Well, it really varies. Because ideas sometimes come quickly, like snapshots. Sometimes they need many drawing starts and nights to sleep on. But if the idea stands, then it can go into the workshop. There, sometimes things still change.
Anyway, with the chain example, the first thing I do is choose a chain, order it, and when it's delivered, attach the clasp. When making the pendant, I saw that out of a large sheet of metal, file, sand, stamp, solder an eyelet to it. When finishing it, I polish it or matte it, depending on what I want or how it looks. That takes me about two hours, for example.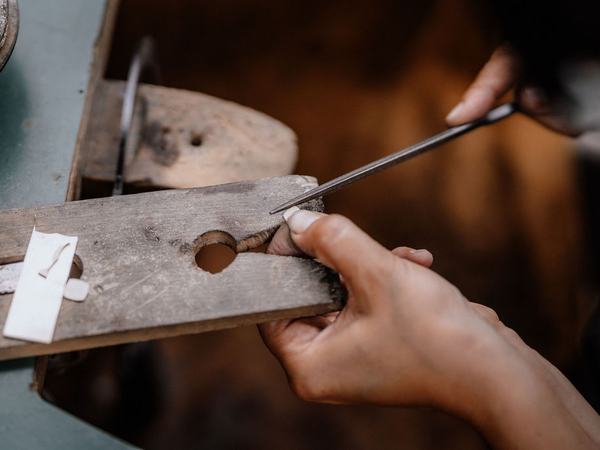 Is there anything else you'd like to tell us about yourself or your work? Or maybe something completely different?
I recently started offering ear piercing for children 5 years and older. It's important to me that they specifically request it themselves.
And finally: Where can you be found? Where can I see and buy your work?
More information about me, my work and my store can be found on the web at www.citlali-design.com.
And in person I can be reached at 0441 - 181 688 63. By phone or WhatsApp. My studio is in Oldenburg-Ofenerdiek.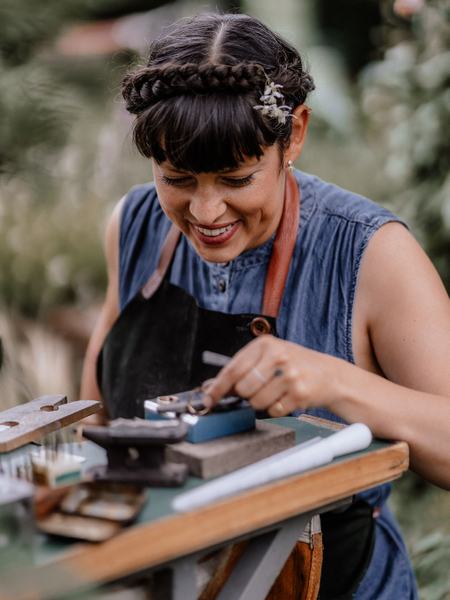 Thank you so much for having me here Natalie!
Image sources
All photos were provided to me by Citlali for the article. The photos were taken by Sandra Schöbel.