Kidwood indoor climbing frame
When the lockdown started at the end of last year, I reached my physical and mental limits relatively quickly - for different reasons. My kids had so much power and I just couldn't contain it.
My daughter in particular started climbing all over the place and was driving me crazy with it. It wasn't exactly low conflict at times.
So we were looking for ways for the kids to let off steam indoors as well and where my daughter could climb. Since she's only two years old, I wanted something that wasn't so high. So I set out to find an indoor climbing frame.
Synopsis
The research
In fact, I had imagined it would be much easier to find an indoor climbing frame that would fit our ideas or to decide.
I researched the topic for quite some time, until I accidentally stumbled across a post in a Facebook group on the very topic. Here, some moms reported their experiences with different models.
In blog articles, it often bothered me that the individual climbing frames were not described in more detail or the real experiences with them. Only different products were listed with brief information. The focus here, it seemed, was mainly on sales.
It was important to us that it is a wooden scaffold, that it is safe and stable and that it is not too high. At the same time, it should also be able to be used by my son, who is six years old. The experience from the group post helped me a lot more here than the blog posts I found.
In the post, the Kidwood indoor climbing frame was recommended several times. After looking at it, I was immediately excited. It fit our needs exactly. Unfortunately, it was sold out at the time. However, a month later it was supposed to be available again and we decided to wait for it.
About Kidwood
Behind Kidwood is the company FELILA GmbH from Kriftel near Frankfurt am Main, of which Franziska Reichenbach, Anna Sauer and Philipp Sauer are the managing directors.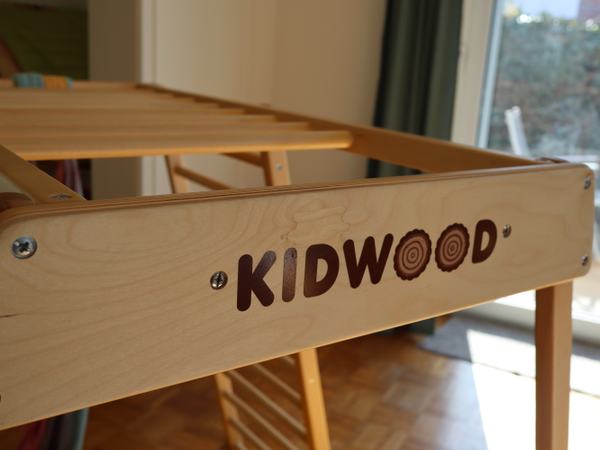 In the online store www.kid-wood.de I can buy three different indoor climbing frames with accessories. There is the model sail here, which we bought, the model Domino and rocket. They are each available in the basic version, that is, the climbing frame itself with slide and mat or with different accessories. The accessories can also be purchased individually. These include, for example, various swings, a rope ladder or gymnastic rings.
Currently, there are always bottlenecks in the store, so that not all products are always available.
On the website I can read that it is not just a climbing frame. It is rather development and unfolding, as well as play and fun. It is to be used from babyhood and also by older children, because it is very versatile. The current stage of development and existing abilities can always be taken into account, he said."For maximum play fun, individual promotion and a thousand adventure worlds." so writes the company.
All elements are tested for safety and certified.
The climbing frame from Kidwood
As I wrote briefly above, we chose the model sail. The individual models differ in the composition of the various elements.
With the climbing scaffold sail is particularly that it has a large climbing net, which I found particularly suitable for my two-year-old daughter. There is also a rung ladder, as well as a side with only two rungs, for example, to hang the slide or for climbing for older children.
It can be set up in four different positions, so it can be used really creatively and in a variety of ways.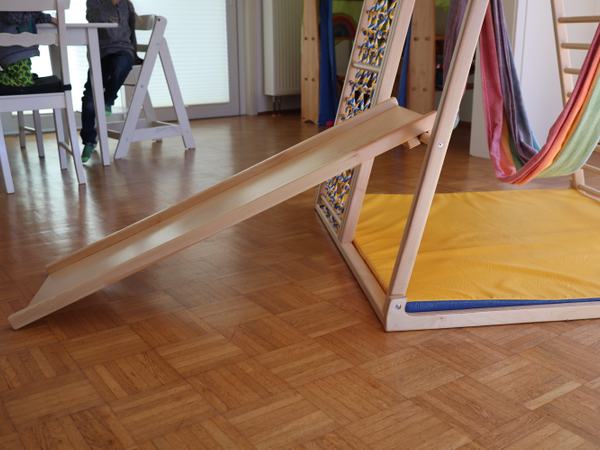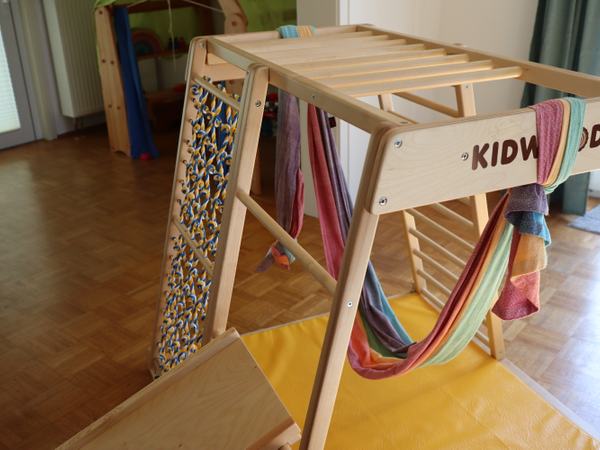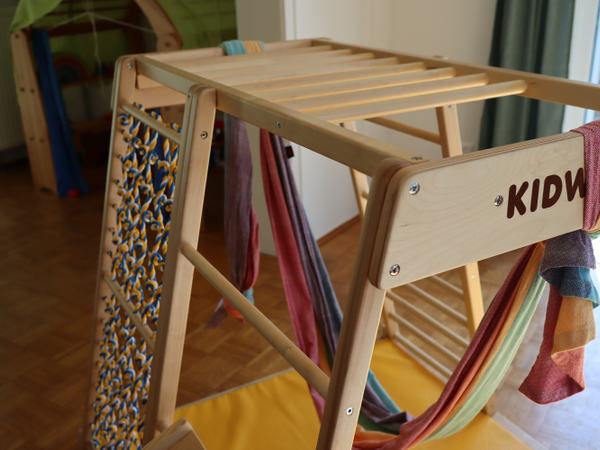 The area of the bottom plate is 113 cm x 115 cm, where the safety mat can lie.
In terms of price, the climbing frame as a basic set, i.e. with slide and mat, is €499. There is also the Junior Set, the Game Set and the Sport Set. In each case, three different elements are additionally included. However, these can also be purchased separately at a later date.
In the following video you can see the climbing frame in action. In our climbing frame, only the climbing net is somewhat denser than in the model from the video.
Our experience with the Kidwood indoor climbing frame
We have had the climbing frame for almost three months now and it is still in daily use. My daughter really uses it a lot, whether for climbing, resting or as a cave.
My six-year-old son also continues to use the climbing frame a lot. He uses it differently, of course. For him, it's a hiding place, a piece of sports equipment, or even a place to rest.
Often they both play together and create their own creative play possibilities with it - build a bed for cuddly toys underneath, use it as a safety place from dangerous animals or lava, let cars drive down the slide, ... It's really fascinating what they come up with.
We also attached a sling to the climbing frame as a hammock in the meantime. This was also very popular and really used a lot.
With my daughter, we mainly use the normal position of the climbing frame, while my son also likes other variants and plays on them.
I find the height just right - even for smaller children. For larger children, it still offers enough opportunities to play and climb. If I only had a child from about four to five years old, however, I would have opted for a higher climbing frame. For us, however, the Kidwood sail is perfect.
The following pictures will give you a few impressions of the climbing frame in action: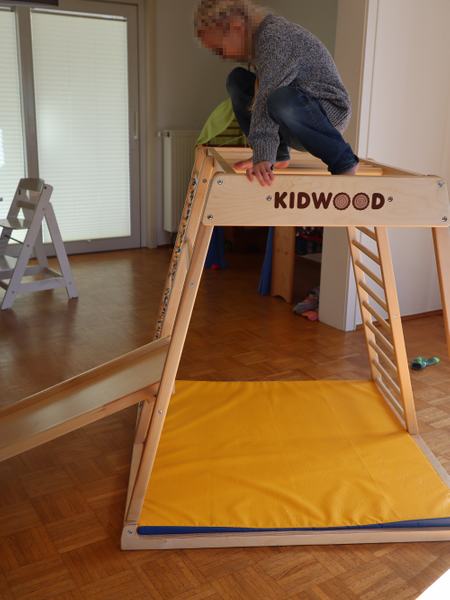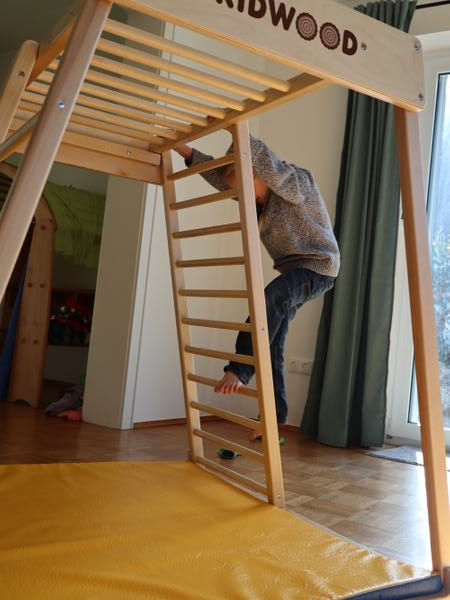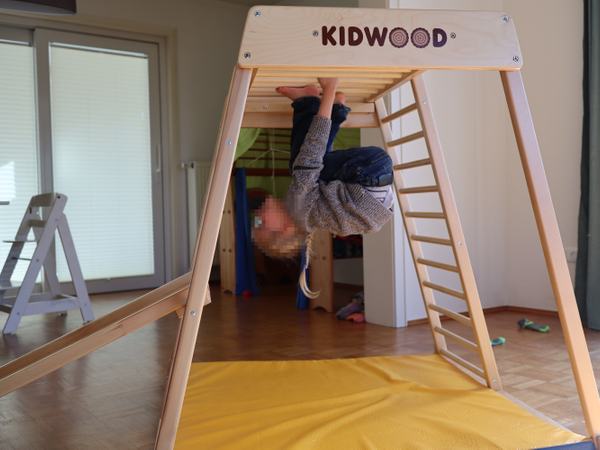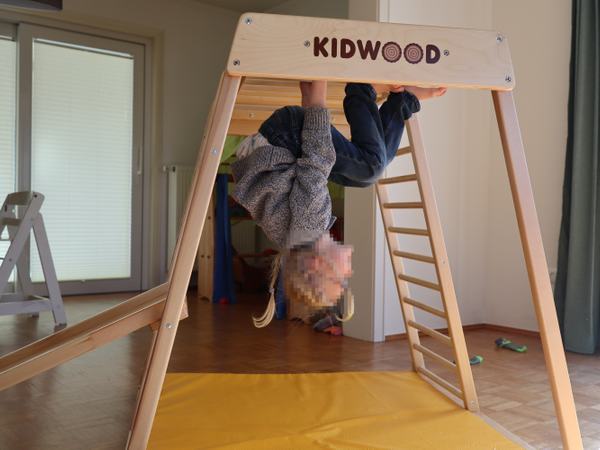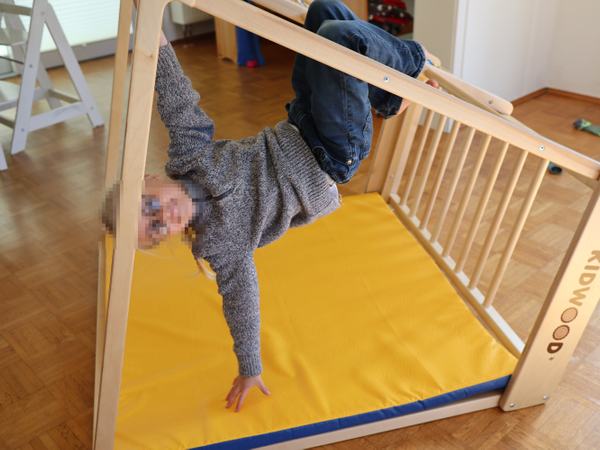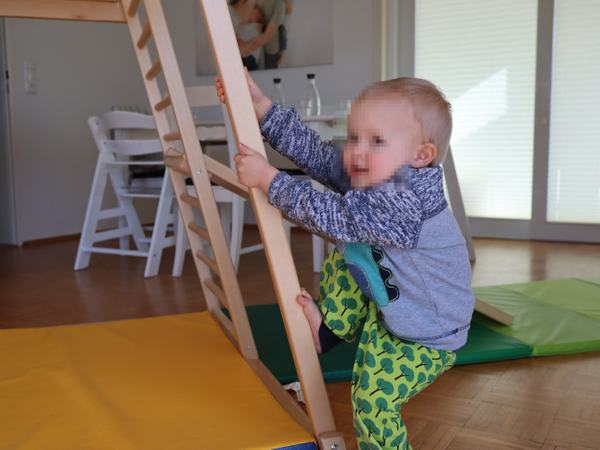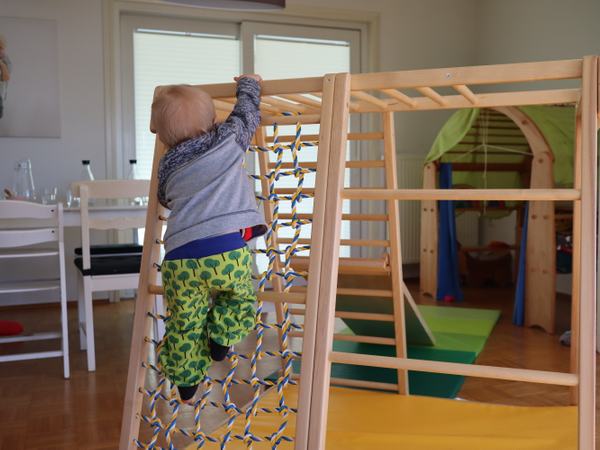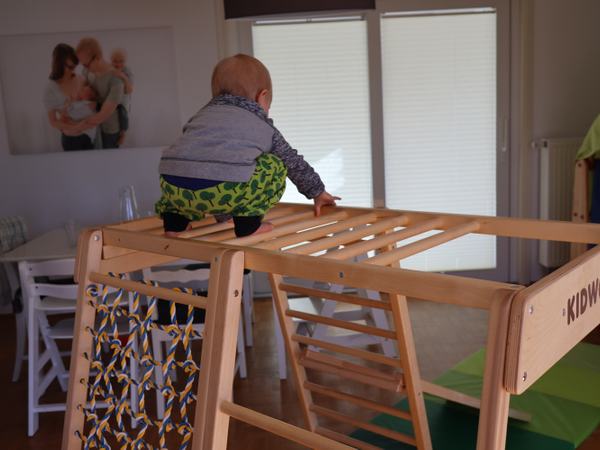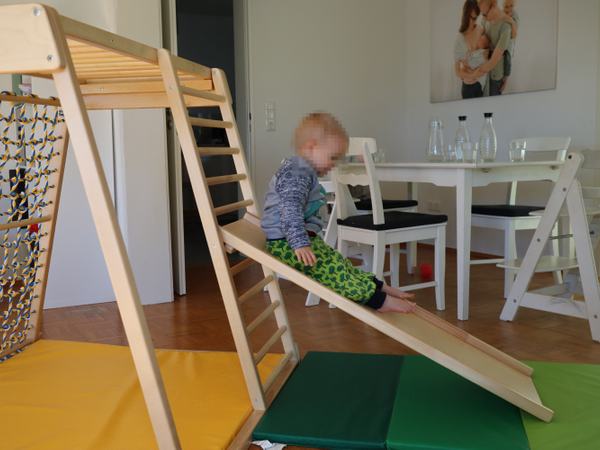 Conclusion
I can highly recommend the Kidwood climbing frame. We have had good experiences with it and are very satisfied. We were a little skeptical at first because of the high price. However, it is totally worth the price. Especially when you consider how much playtime the kids spend with it.
My husband was initially a little skeptical that the climbing frame would not be too small, but was quickly convinced otherwise. This way our daughter can climb safely without us having to stand all the time. It also doesn't look so bulky in the living room, we can move it around easily.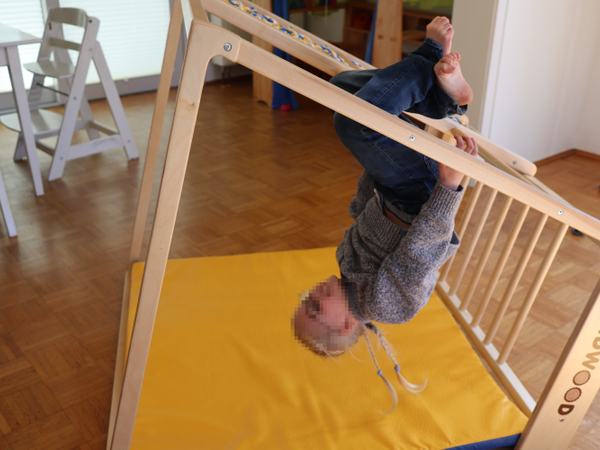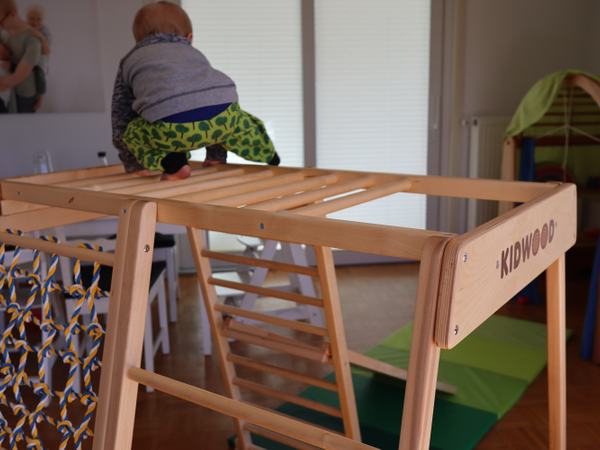 For the future, I can well imagine to buy more accessories to offer even more variety; especially for my older son. Currently, however, I see no need for this.