Mayong Mei Tai
There are now some professional sewing (inside), which also make carrying aids and carrying clothing. Now I had the opportunity to test such a carrying aid, namely the Mei Tai from Mayong.
About the manufacturer
The seamstress Mayong comes from Germany and has a 9-year-old daughter. She makes children's clothing, baby carriers and accessories on customer request. You can find more information on her website www.meitai.de.
The idea for the Mayong Mei Tai came about when she wanted to try something other than just a baby sling with her daughter. She made a first Mei Tai and quickly received requests from mothers around her who also wanted to have such a carrier sewn.
In addition to sewing, Mayong also owns her own store in Alpen and advises families on babywearing.
About the Mayong baby carrier
The carrier tested is a classic mei tai with straps and waist belt for tying. The straps cannot be fanned out. It fits from about 3.5 months up to 18 months or 15kg.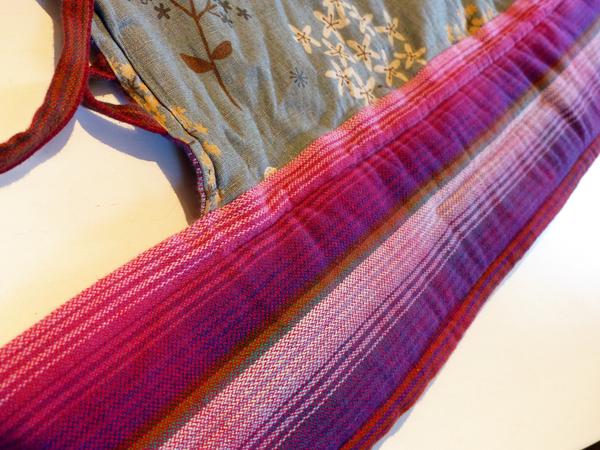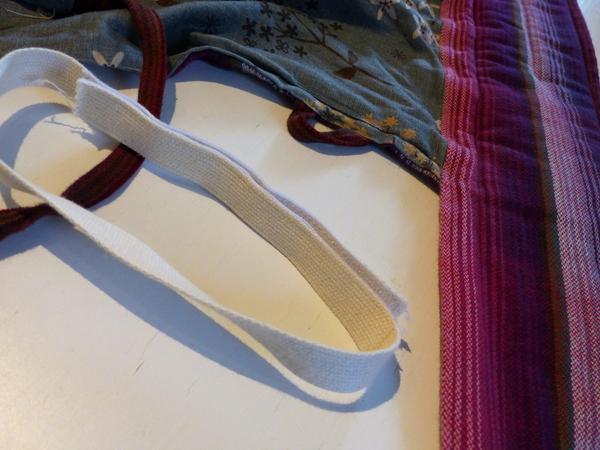 The belly strap runs straight and has little and soft padding. The bar width can not be adjusted directly on the carrier. However, loops are sewn on the back part far below, through which a bar reducer can be pulled. This is included with the carrier. The back section can also be rolled up for small babies, so that it fits better in height.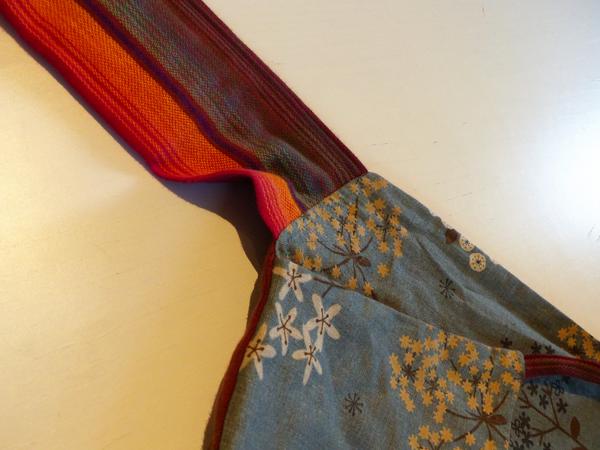 The headrest is rather small compared to other baby carriers, but in my opinion perfectly adequate. It can be attached to the straps with straps. The straps, just like the waist belt, are quite straight and lightly padded. They are also rather wide. Additionally, the carrier comes with belt protectors that can be buttoned around the straps with snaps.
When wearing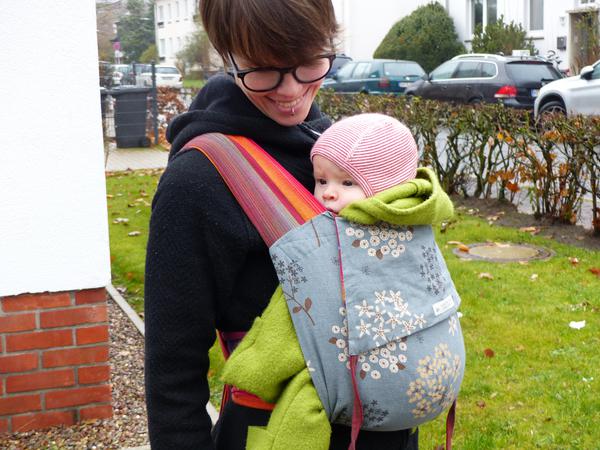 I was able to test the carrier with my 5-month-old daughter. I wore it both in front of my stomach and on my back. I quickly noticed how soft the fabric of the entire carrier was and how comfortable the straps were to tighten. They rested on my shoulders without pressure points and snuggled snugly. Despite the little padding, it wasn't uncomfortable on my shoulders. However, the straps were incredibly long, so I had a lot of fabric over.
When wearing it on my back for long periods of time, I would prefer a chest strap or knot a finish with the straps because then I wouldn't have the feeling of slipping straps. This is due here to the soft fabric. However, with a chest strap, Mayong 's Mei Tai was comfortable on my back for a very long time.
Tying the stay with the stay reducer is easy. At the same time, this shortens the length of the back so it fit my daughter perfectly. I also tipped the waist belt ("apron" worn). When I did this, I then knotted in the back to avoid pressure on the tummy from the knot. My daughter was well supported overall and could see well because the straps were tight.
Washing
I did not wash the carrier. However, I can't imagine any problems doing so since there are no integrated buckles or other details. Conveniently, I have harness protectors with it that I can wash separately.
Conclusion about the Mei Tai from Mayong
I can highly recommend this baby carrier. It is a comfortable, very soft baby carrier. For carrying on the back, I would recommend using a chest strap. I personally would only wish for slightly shorter straps.