Picky Eaters
I waited a long time for the book Picky Eaters by Tatje Bartig-Prang. Purely out of personal interest, as the mother of a picky eater, I have been on the verge of despair many a time when it comes to eating behavior and food choices. Unfortunately, there hasn't really been much German literature on the subject.
But also from a professional point of view, the topic of fussy eaters is quite relevant and a useful addition to breastfeeding and complementary feeding consultations.
In this review, you'll find out what exactly the book Picky E aters is about, what took a lot of inner pressure off me for our family life, and what kids really need to eat.
Table of Contents
General information about the book Picky Eaters
The book Picky E aters was written by Tatje Bartig-Prang and was published by Gräfe und Unzer Verlag on October 7, 2020. It is subtitled What you can do when your child won't eat.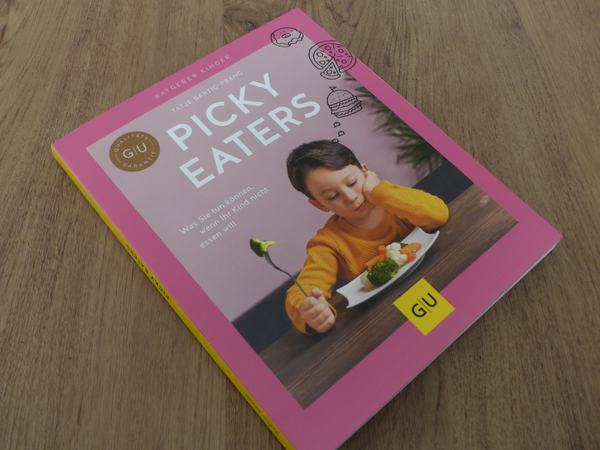 Picky Eaters costs 14,99€ as a paperback and in the Kindl version the book is 11,99€.
The cover of the book is pink/pink. It shows a child with his head propped up sitting in front of a plate of different vegetables. In thought bubbles are other foods depicted that the child would probably prefer instead of the vegetables.
The blurb initially states that learning to eat would also work without stress. In the book, I am supposed to learn about the developmental stages of eating, what nutrients it requires, and how to integrate new foods into everyday life.
The author Tatje Bartig-Prang
Tatje Bartig-Prang has a degree in cultural studies. She writes books on various family topics. For example, the books Breifrei, Pipi. Kacka and Bindung macht stark were written by her. I have already presented her book Autogene Geburt in the article Bücher über die Geburt - Autogene Geburt.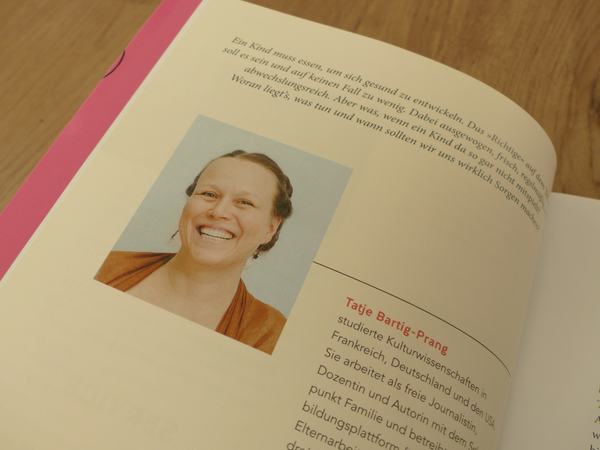 In addition to her work as an author, Tatje Bartig-Prang offers training on baby-guided complementary feeding, as well as on the topic of Picky Eaters. She can be booked for in-house trainings, readings and lectures. You can find out more about her work on her website www.tatjebartigprang.de.
Tatje Bartig-Prang lives with her husband and three children on a farm in northern Germany.
The contents of the book Picky Eaters
Very roughly, the book Picky Eaters is first divided into two sections: Theory and Practice.
In the first section, the author describes all the theoretical basics of why children don't eat. She goes into how food intake develops - from pregnancy, through the first months, to complementary feeding and eating at the family table.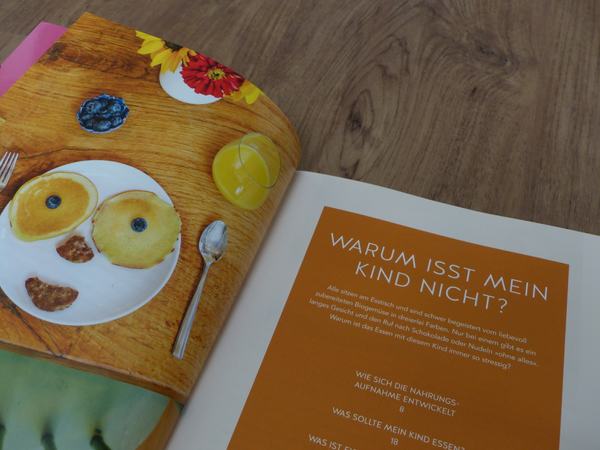 Tatje Bartig-Prang then describes what children should eat in the first place. I learn what we know so far about nutrition, which ingredients from food are significant and what they are contained in.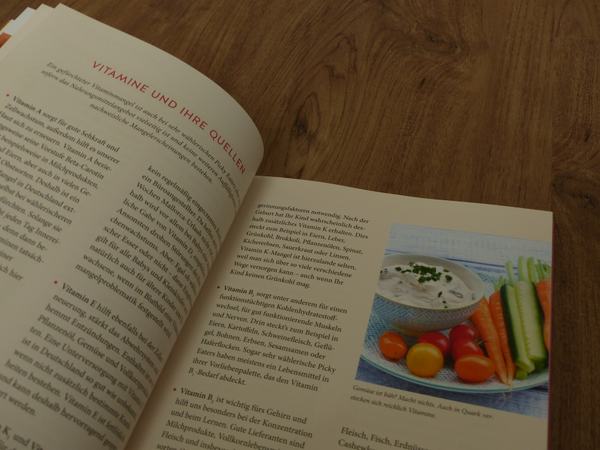 At the end of the theoretical part, I learn what a picky eater is, how to distinguish it from an eating disorder, and which senses are important for eating.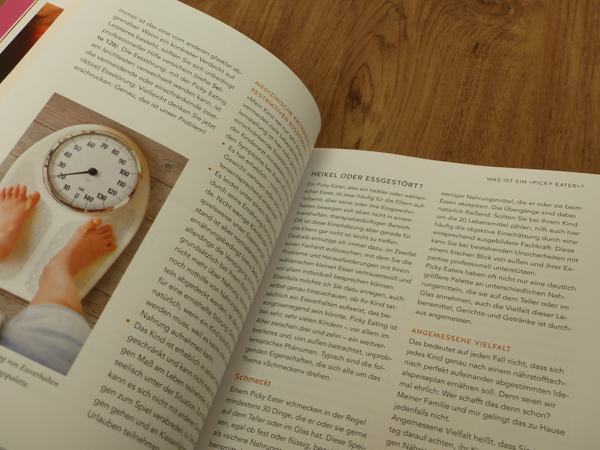 The second section, the practice, begins with seeing and understanding the child. The author addresses the fact that children eat differently than adults. She looks at children's feelings and explains what mindful eating means and why it is so important.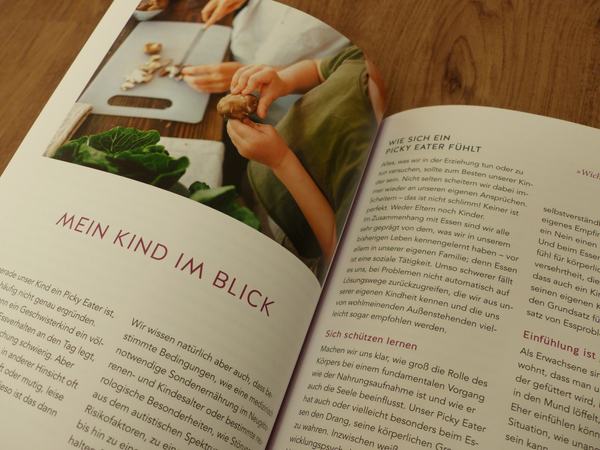 After the focus here was first on the child, it is now about myself - my beliefs about eating, feelings of shame and fears. It goes on to describe how trust can be built.
Towards the end of the book, I find concrete ideas for everyday life on how to relieve the eating situation. It is about goals, a suitable framework, finding so-called meal bridges and protocols. I also learn when it makes sense to seek help.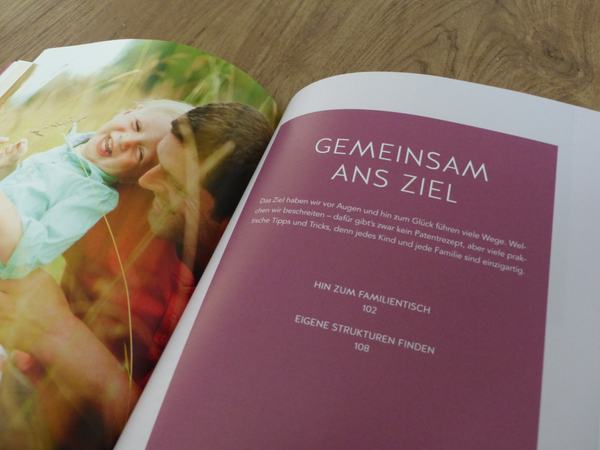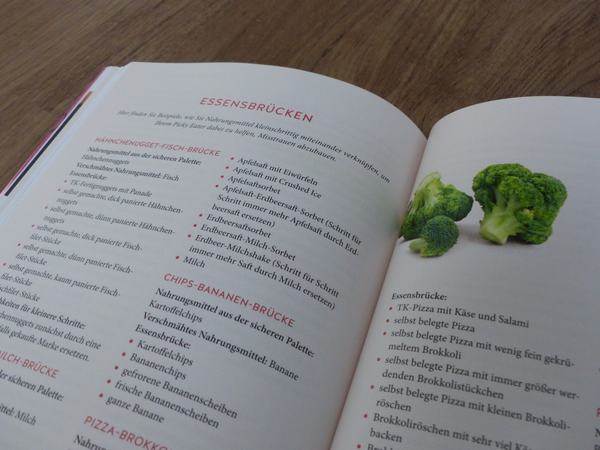 In the appendix, I find a list of other books that can help, as well as various points of contact for questions.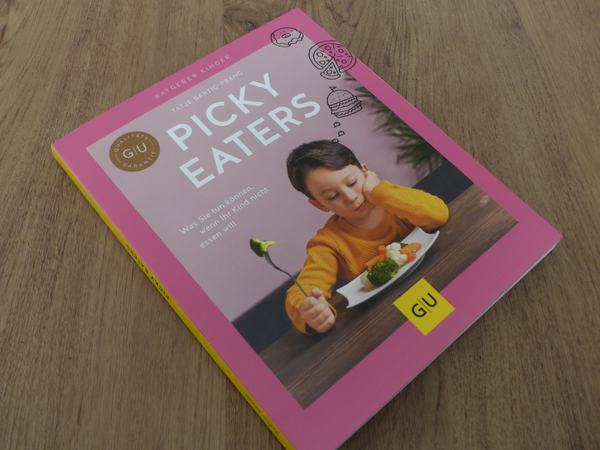 In the front and back of the book flap I find 10 tips for relaxed mealtimes.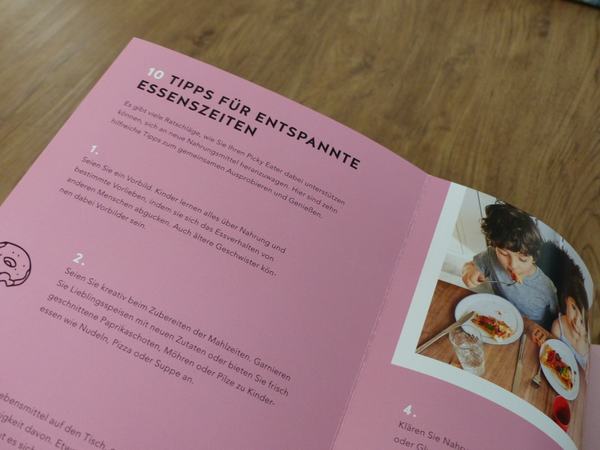 My opinion of the book
I liked the content of the book Picky Eaters by Tatje Bartig-Prang very much.
Already after the theoretical part I had the feeling that eating was much more relaxed. I learned that vegetables are not always mandatory and that many important ingredients can also be absorbed outside of fruits and vegetables. This already took a lot of pressure off my everyday life.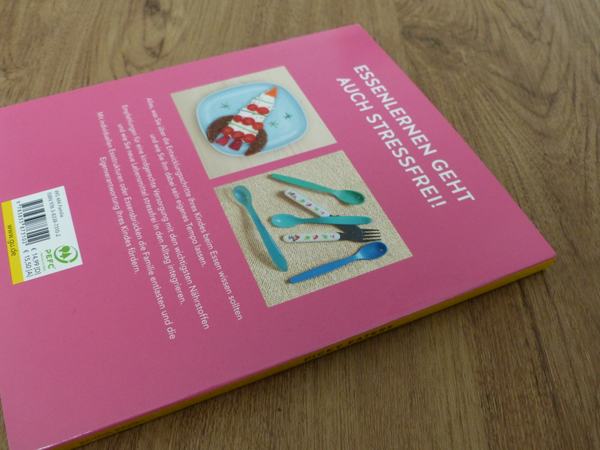 I learned here once again a lot of things that I objectively already knew, but so far could not really accept, because it was always only fragments, which were combined with a lot of half-knowledge, which circulates in many places.
Later, I understood the food situation even better and have now also received concrete, everyday ideas, what I can still change and what is perhaps not as bad as I always think.
Unfortunately, I didn't like the author's writing style as I have in her other books. I find the books written in a very colloquial way and I miss the technical language in some places.
Apart from that, the book has brought me a lot of relief and taken quite a bit of pressure off. I would recommend it to all parents who are concerned about their children's eating behavior!
Let me know what you think about the topic
Do you have a picky eater at home? If so, how much does this issue stress you out? Would you like more information about it?
Or have you read the book Picky Eaters by Tatje Bartig-Prang? How did you like it? Can you think of any other books or articles on the topic?
I look forward to hearing about them in the comments!