Mammacita Reconstruction Course after Caesarean Section
There are many postpartum courses. Classically, these are regionally bound and take place at midwives. Due to the Corona pandemic, more and more online courses have emerged that take up more specific topics - for example, there are postpartum courses purely for star parents or postpartum courses for women who have had a C-section.
I was allowed to test Mammacita 's online post-cesarean reconstruction course and can report here about the course and my experiences with it.
Summary
Information about the online course
Mammacita 's online course Regression after Cesarean section is, as the name suggests, specifically designed for moms who gave birth to their baby by Cesarean section.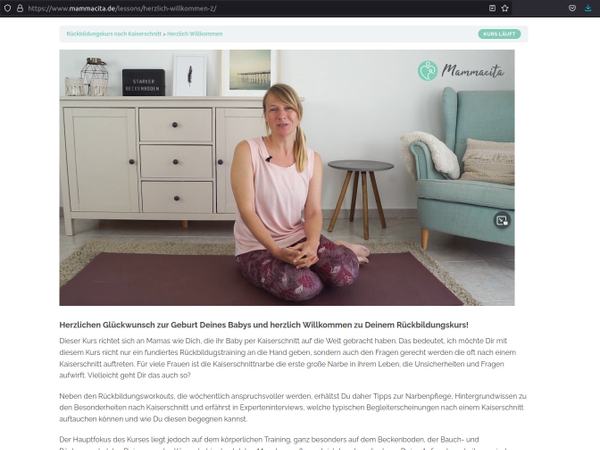 Julia Ronnenberg, the owner of Mammacita and leader of this online course, says herself that in her normal regression courses she often had the feeling that she did not do justice to the special questions and concerns around the cesarean birth and the regression afterwards, which is why she created this course that can be dedicated to exactly that.
The course can be tested free of charge for seven days and then costs €79.90. The cost of this video regression course is not usually covered by health insurance.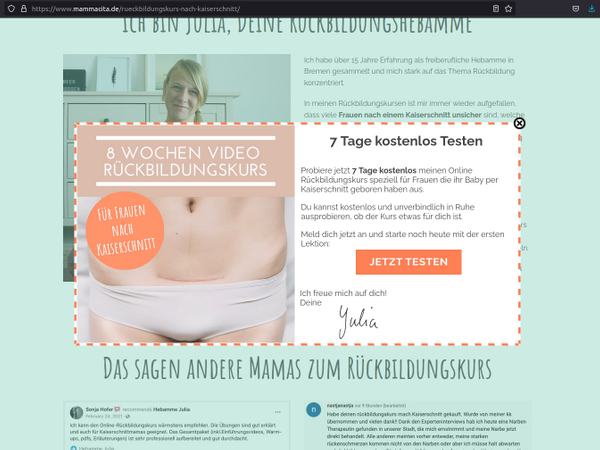 In the following video, Julia presents her online course in more detail. Here you will also get some impressions of the course.
Information about Mammacita
On the website of Mammacita I can read that I can find products for moms and babies out of love for mother and child paired with a lot of midwifery knowledge.
The owner and founder of Mammacita is freelance midwife Julia Ronnenberg.
The story of her company began with the birth of her daughter more than 14 years ago. At the time, she was looking for appealing breastfeeding clothes, couldn't find what she was looking for, and quickly created practical and beautiful breastfeeding clothes herself. In 2017, however, the price pressure due to large chains became so great that she could not continue with this project.
In 2019, the store of Mammacita was reopened. Now there were targeted products for moms and babies. I can also read that most of these products are produced in Turkey and the EU. The product range now includes elastic slings, silver hats, menstrual cups, baby hooded tow els and much more.
In addition, I can book various online courses with Julia.
In her blog, the midwife writes about many topics related to pregnancy, birth, postpartum, regression and baby time. So I was allowed to contribute a guest article to her blog with the title The shortened lingual frenulum - common questions.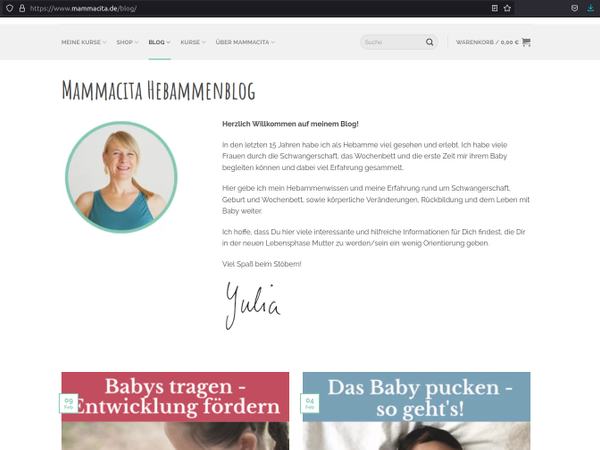 Content of the course
Mammacita 's online course Regression after C-section goes far beyond what is possible in a normal regression course - just from the time frame. I receive a lot of theoretical information on the one hand and on the other hand I can watch and participate in various postpartum workouts and practical exercises. The content is released at different times.
First, I receive general information and learn what I need for the course. I also learn more about my own pelvic floor with the individual layers and am directly given individual exercises for the pelvic floor. I also find instructions for a pelvic floor test under this section so I can compare the state of my pelvic floor before the course and after I have completed the course.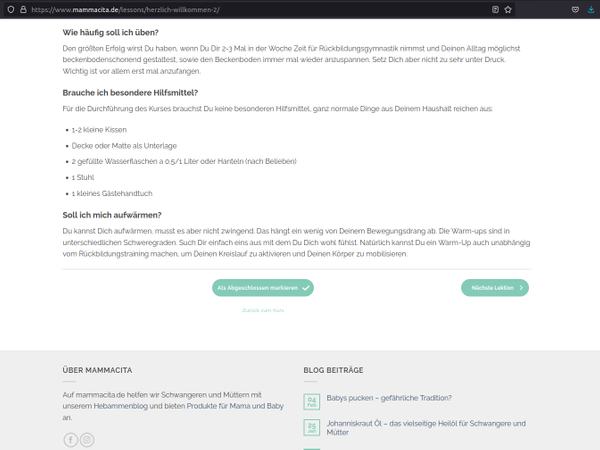 I also get some information on the abdominal muscles during and after pregnancy. Julia discusses what is special about cesarean section and what rectus diastasis is and how I can recognize it in myself. In addition, I get background information on breathing during regression.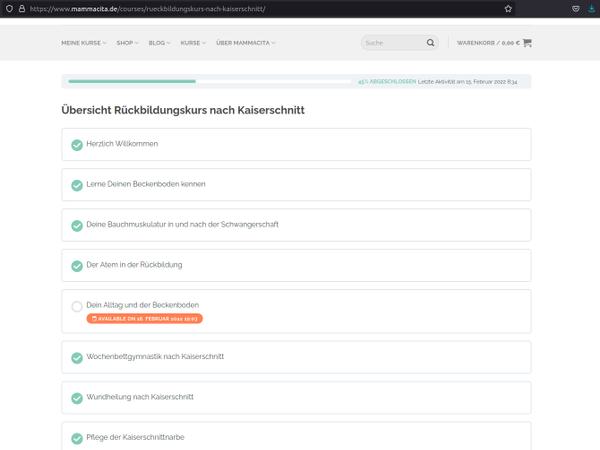 I also learn in various videos how I can specifically activate the pelvic floor in everyday life and at the same time protect it.
If you book the course shortly after the C-section, you will also receive useful tips and information. For example, it's about postpartum gymnastics and abdominal massage. I can also learn about the phases of wound healing. Julia also goes into more detail about the C-section scar in a separate chapter, and I learn a lot about care and scar massage.
In four expert interviews, Julia has interviewed other professionals on various topics related to cesarean section. The interviews deal with adhesions and adhesions, the technique of scar debulking, hypertrophic scars and keloids, and traumatic births. Julia also addresses the topic of trauma after birth in a separate lesson.
In the practical part of the course I find three different warm ups that I can optionally do before each of the postpartum workouts. The individual postpartum workouts are unlocked weekly, so the course lasts a total of eight weeks, although it can of course still be used afterwards.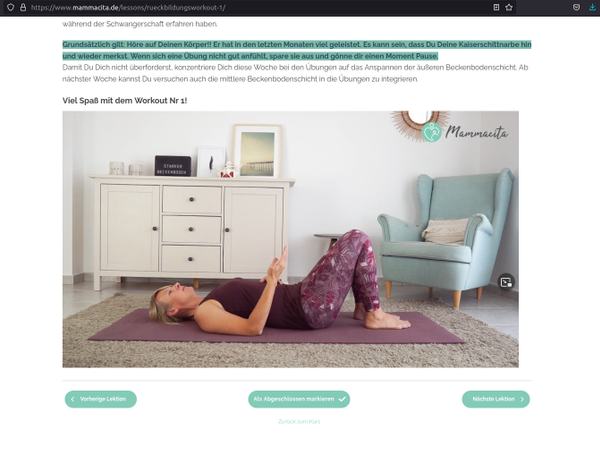 My experience
My births were a bit longer ago, I gave birth to my son via c-section in 2014 and in 2018 my daughter was born in our living room. Nevertheless, I can say that the Mammacita 's post cesarean recovery course helped me. I was able to improve the stability and adaptability of my pelvic floor during the workout weeks, as well as the fitness of my entire body (otherwise I do rather less sports currently). If I had booked the postpartum workout right after giving birth, I'm sure I could have benefited a lot more.
I find the mixture of videos, text and graphics very appealing and makes the course varied. Overall, all the content is easy to understand and I myself was able to learn a few new aspects about the C-section scar, for example. The expert interviews were really interesting. If you're not interested in all the theoretical content, you can skip most of it and simply use the workouts.
In the videos themselves, there are several changes of perspective, which makes watching more interesting and in some cases, exercises and movements can be imitated even better. What is missing here, just as with any video online course, is of course the direct feedback on a correct execution of the exercise. I therefore think a complementary on-site regression course makes sense, if this is possible (due to the pandemic and the often lack of course offerings). Overall, however, I find that Julia's exercises can be replicated well, she explains them sufficiently and provides appropriate visualizations and variations for the exercises.
However, the course offers a whole range of information and tips, which purely in terms of time can not be offered in a face-to-face course. In addition, I find it very valuable that this course is aimed at moms with a cesarean section and addresses more specific topics.
What I also liked is that the lessons and workouts are unlocked at different times. For example, I couldn't watch the postpartum workout from week 5 right from the start.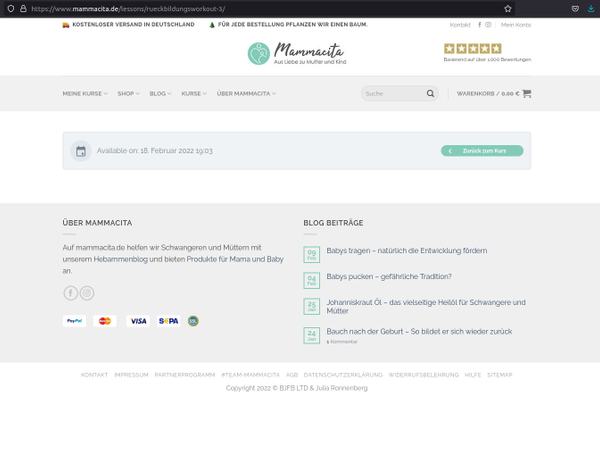 The course portal is easy to use and intuitive.
Overall, a very successful video course that is definitely worth the price!
Your opinion
Have you taken a postpartum recovery course? Have you done the postpartum regression with a video course? What was your experience with the course you took?
If you also had a c-section and did a postpartum regression course: Was the course more specific about cesarean section? What information did you receive about this?
I look forward to reading about your experiences!