Yhácek contour diaper
Sawa Nordt, founder of Grünkind and the associated store www.gruen-kind.de, sent me another contour diaper. This one I am supposed to test and compare with the contour diaper from Veru, which I have already described in my article Veru PidiPuk contour diaper [review].
About the manufacturer
Yhácek's online store, www.suchedupky.cz (Czech), sells cloth diapers as well as various other products such as children's clothing, personal care products, fabrics, baby slings and carriers. However, the owner also sells products from other manufacturers there, although the focus is clearly on her own items, which she sews herself.
Diaper description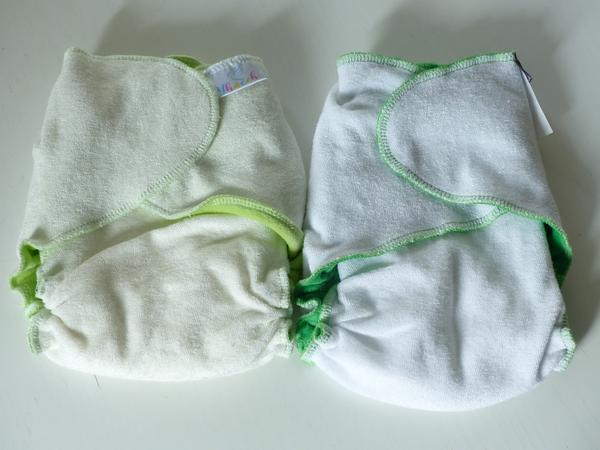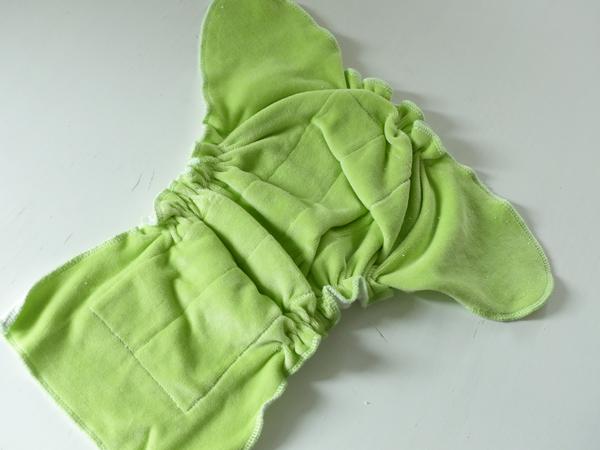 This is a contour diaper, a diaper without an integrated closure. Since this type of diaper is reduced to the bare essentials, these diapers are also called minimal diapers.
This time it is a one-size diaper, which is supposed to grow with the child. Here, the waist height can be changed by folding in the fabric at the front and back. The tested diaper is available in two different versions. The classic version costs 12€ and the organic version costs 16€.
It can be purchased or rented in the Grünkind store.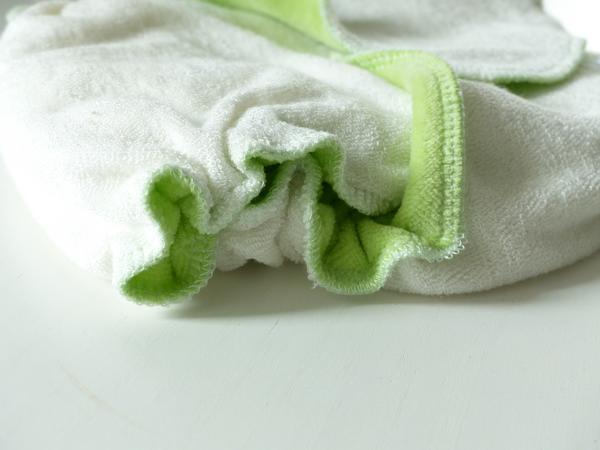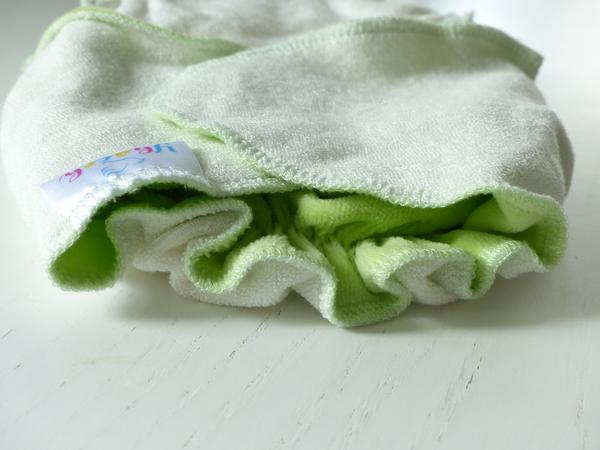 As I wrote above, the diaper does not have a fastener. I would recommend a diaper clip (Snappi) to fix it*. This will prevent the diaper from slipping.
It is gathered at the legs and back, which should provide a better fit and prevent stool leakage. The side area that is placed around the child is relatively wide on this diaper, allowing it to be folded in a bit for smaller children.
DIY - Sewing a contour diaper
As already written, contour diapers are very minimalist, so they can also be sewn well yourself. On the wonderful blog www.stoffwindelguru.com you can find a sewing tutorial for a contour diaper in a guest post by Alexandra from Munich.
Materials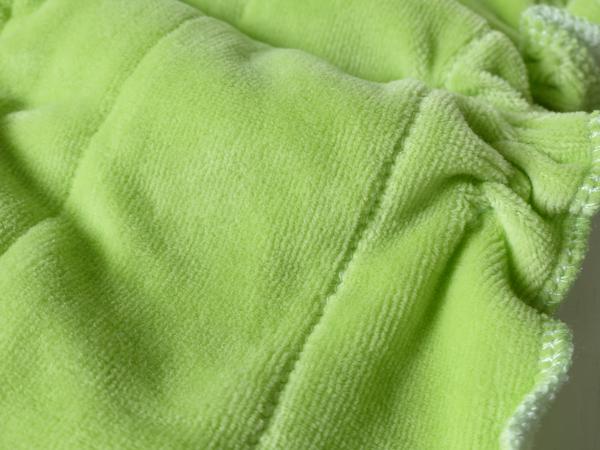 The contour diaper from the Czech manufacturer Yhácek has different materials on the outside and inside. The bright, shiny outer fabric is 80% bamboo viscose and 15% polyester. Inside is a material mixture of 80% cotton and 20% polyester, which is also very soft and in this case colored. There is a variant in which organic cotton is used.
For more information on the materials and their absorbent properties, see my article Small material science - cloth diapers.
The fabric is overall very soft and does not become stiff even after repeated washing. The absorbent core in the middle is thicker than the sides. However, it is planned that there will be an additional insert to increase the absorbency even more if needed.
Yhácek Contour Diaper In Test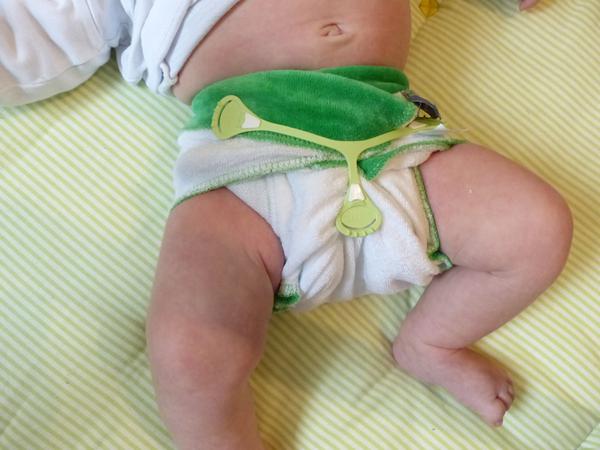 I was able to test the contour diaper for a few months with my daughter, who is now almost 10 months old. In order to make it fit my daughter, I initially folded over some fabric on the back as well as on the stomach. This allows the waist height to be adjusted well even for small babies.
The fabric is slightly stretchy, which allows me to adjust the contour diaper well. I fix the two side ends with a diaper clip, because otherwise they slip too easily.
I also do not have to roll up the sides on the legs here, because the diaper is already relatively narrow overall and the cuffs provide a good fit.
Pleasant could be for some parents that the diaper can already be used so and does not have to be folded another insert.
The absorbency has been good enough for us during the day, at night it came after the first few months to its limits. For the night I would otherwise simply put an additional EInlage with in the diaper.
The diaper wears little overall, thus restricts the leg movements almost not at all.
This contour diaper is relatively small for a one-size diaper, I think. Therefore, it will probably already fit most newborns, at least with the fabric folded in.
It will certainly fit longer for us as well. How long the diaper is exactly usable, I can not yet judge.
Since the diaper is relatively narrow cut, many different overpants are suitable as wetness protection.
Farewell to di apers online course
Learn how to make the transition from diaper to potty in my Abschied von der Windel online course.
For example, we used different slip over pants like the hu-da slip over pants made of PUL (S), disana wool slip over pants (62/68) or Maleja wool slip over pants (S).
But also overpants with Velcro or snap fasteners can be used, such as Blueberry Simplex or Bambi Roxy overpants (newborn), using the SIO without additional insert.
With the respective size information in brackets I indicate here which size we have used.
Washing and drying
According to the manufacturer, the diaper can be machine washed at 60 degrees. Since the bamboo viscose is somewhat susceptible to washing, I would recommend a detergent without enzymes. Even when washing with full detergent I had no problems and even after multiple washes the fabric is still soft.
Drying took about 2 days on the line in the fall.
Yhácek compared to the contour diaper from Veru.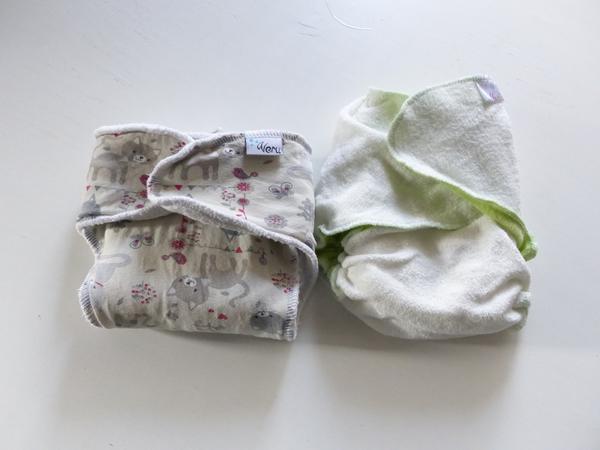 I was asked by Sawa to compare the contour diapers from Yhácek and from Veru.
The diaper from Veru is much more absorbent, has a higher absorbency and is more flexible due to the foldable insert. I think it is a good solution for nighttime diapering.
In comparison, the diaper from Yhácek is much thinner, thus hardly restricts and is well geeinet for daytime. The absorbency of Yhácek's diaper is lower without an additional insert.
Both diapers can be easily adjusted in the waist height by folding, whereby there is a separate newborn diaper from Veru.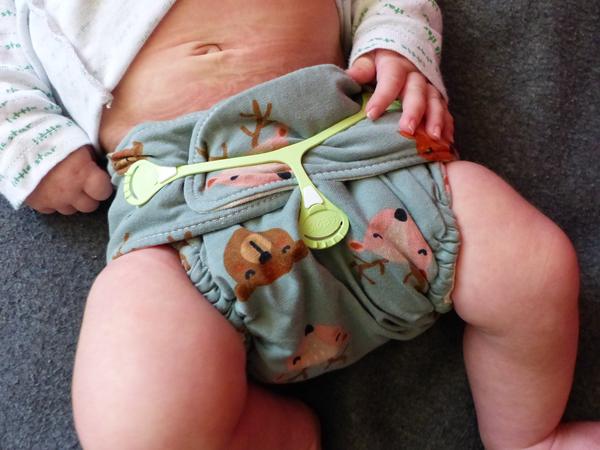 Comparison to other manufacturers
In general, I find them otherwise comparable to Glückswindel's pant diaper in terms of fit, though this one is still cut a bit smaller. Other than that, though, they're both slim diaper options that can be used during the day without any problems.
You can read more information about the Glückswindel Panty Diaper, as well as my other experiences, in my article Glückswindel Panty Diaper [review].
Conclusion about the Yhácek contour diaper
The contour diaper from Yhácek is a great, narrow diaper for daytime use. If it is to be used at night, I would recommend using an additional insert.

I think the price-performance ratio is good. We have not had any defects with the fabric or seams.

*Theseare affilate links. If you make a purchase, I get a small commission.